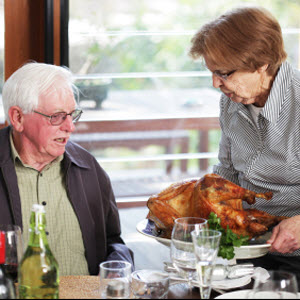 Adult children visiting for the holidays may notice changes in their loved ones and be faced with concerns over whether or not their parents can continue living on their own. Here are some things to consider:
Are your aging parents keeping up with activities of daily living such as bathing and personal hygiene?
What is the condition of their home? Are there unopened or unpaid bills? Is medication being taken and refilled? Are there too many animals?
Are there changes in your parent's behavior or functioning such as difficulty walking, hearing or vision changes, memory or mood difficulties?
What is the condition of your family member's car? Does it have unexplained dents and signs of damage? Has it been maintained?
Has your family developed an emergency plan in case your loved one suddenly required more care? Who would they live with?
If your aging parents living along don't require medical care, a home care agency may be able to provide services to support them. Assistance with grocery shopping, medication reminders, transportation to appointments and companionship could help your parents continue living in their own home.
mmLearn.org recorded 'Home for the Holidays', an engaging webcast which outlines what to look for when visiting parents at home. This video contains practical help for today or for any visit at any time of the year.
What happens if you do discover the difficulties your parents are having living on their own? If you believe they need more care or are no longer safe living on their own, mmLearn.org also recorded a free webcast on Family Decisions and Long Term Care can help you evaluate options. Dr. Paul Garcia, a geriatrician practicing in San Antonio, Texas explains the differences in assisted living facilities, long-term care facilities and personal care homes. Checklists and a discussion of what to consider when choosing a home are included.
The mission of mmLearn.org is to provide caregivers with online training and education that improve the quality of care received by older adults.