Family Caregiver Guide
Comprehensive Guide to Caring for a Senior At Home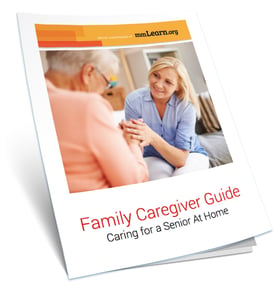 Being a caregiver for an aging loved one can be daunting and stressful. While a caregiver's work can be tremendously rewarding, it presents many, many challenges.
Fortunately, family caregivers don't need to go it alone.
We've combined the knowledge of dozens of senior care professionals into a Family Caregiver Guide: Caring for a Senior At Home. This free 48-page ebook is full of useful information, activities, video links, and more.
This ebook will help caregivers:
Keep their aging loved one safe

Deal with dementia / Alzheimer's
Assist their loved one with mobility issues
Understand assisted living options
Just fill out the form at right to download the Family Caregiver Guide!