Get Help With Sundowning Syndrome
Difficult Behavior at the End of the Day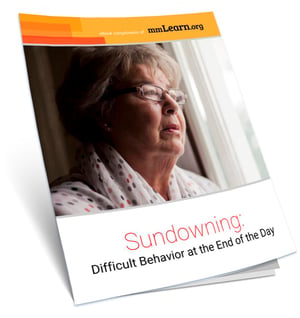 Caring for someone who experiences sundowning syndrome can be difficult. When your patient or loved one repeatedly becomes confused or agitated at nightfall, it affects not just them, but everyone in their lives.
Fortunately, there are steps caregivers can take to reduce sundowning risk factors and help limit the occurrence and severity of episodes.
In this free 12-page ebook based on a presentation by Thomas Weiss, M.D., you'll learn about:
Symptoms of sundowning
What research reveals about this syndrome, including how common it is
Steps you can take to help reduce the likelihood of a sundowning episode
To download this ebook, just fill out the form at right!