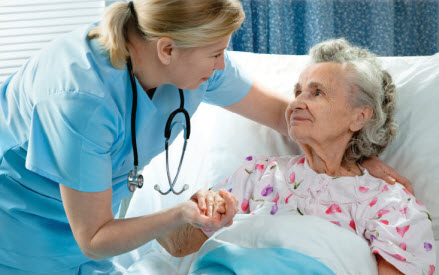 Quick quiz: What is an ACE Unit? The term sounds clinical, but the concept behind it embraces a novel approach for treating elders in a hospital setting. ACE stands for Acute Care for Elders and it can be a good option to consider if a loved one requires inpatient care.
ACE units differ from regular inpatient care in several ways:
Older adults with complex medical needs are treated in a defined geographic unit within the hospital. Special consideration is given to floors, lighting and furniture.
ACE units have specialists (geriatricians, nurses, pharmacists, nutritionists, social workers and chaplains) working as a team to discuss and meet the needs of elders. Team conferences are held daily.
Patients and family members are encouraged to be involved and are considered a part of the care team. ACE Units are often equipped with conference rooms and computers for family members.
ACE Units were first piloted at the Cleveland Clinic in 1989. Studies have shown ACE Units reduce the rate of mortality in hospitalized frail elders and also improve their functional outcome.
San Antonio is fortunate to have its first ACE Unit located at Christus Santa Rosa City Centre. If you'd like to learn more about ACE Units, click here to view a webcast with Dr. Theodore T. Suh, Medical Director of the ACE Unit at Christus Santa Rosa.
The mission of mmLearn.org is to provide caregivers with online training and education that improve the quality of care received by older adults.