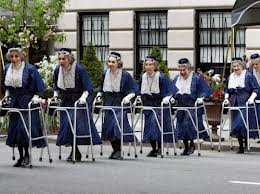 The unexpected trip to the emergency room after a fall had my 90 year old mom bruised, unable to move much without grimacing in pain and somewhat disoriented from her experience. Nonetheless, her stalwart defiance that she was fine and did not need to be in the hospital was quite clear. As we waited for the doctor to examine her, she recounted her story of getting up in the middle of the night to use the bathroom and just miscalculated her steps. She reached for the door knob, missed and down she went hitting her back against the door jam. Thankfully mom lives with my brother who was able to get her up and examine the damage – thus the emergency room!
As the very young doctor examined her, he was also asking her routine questions about the fall and then it came, "Do you have a cane or a walker?" To which mom replied emphatically, "YES" and to which I interjected, "You've asked the wrong question doctor, you need to ask her if she uses a cane or walker." The doctor looked a bit puzzled and then looked at mom who sheepishly admitted not using her walker because it "gets in the way". It gets in the way of her maneuvering around her garden, watering her flowers, but most likely gets in the way of her looking like she doesn't need one. Mom has mentioned more than once how a particular relative or acquaintance must be pretty bad off if they need a walker to get around!
The time has come – as it will for many of us – to use assisted devices to get around – to be safe and to be able to still enjoy some mobility. For free training and education for caregivers of older adults, go to mmLearn.org to watch Walkers, Canes and More: How to Use Assisted Devices, presented by Martha Acosta, PhD, PT, MS, GCS , part of our Family Caregiving Series.