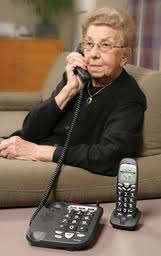 "Hello, Grandma?" This simple two word greeting over the telephone can immediately elicit a warm, welcome response on the other end of the line revealing the name that the caller needs in order to continue the ruse. "Oh John, it's so good to hear from you." Once the caller has a name, they are quickly able to gain the trust of the elderly person and convince them to send money for an unexpected emergency. This is just one of many all too familiar scams that have been played out over and over again and unfortunately have bilked vulnerable seniors out of their hard earned savings. A study done by MetLife Mature Market Institute in 2009 estimated the financial loss from abuses to be at least $2.6 billion a year which is probably just an educated guess. While the monetary loss is probably much higher, the loss of confidence in being able to make rational decisions can be devastating and difficult to overcome.
Although many of the stories heard on the nightly news or read in the newspaper about elder financial abuse draw attention to the stranger or clever con artist as the perpetrator. The reality and most difficult issue to comprehend is that the largest percentage of perpetrators, referring again to the 2009 MetLife study, involved close associates of the victim – families, friends, caregivers and neighbors – the trusted individuals. This is a problem that is sure to get worse as baby boomers move into their senior years.
Paul Greenwood, head of elder abuse prosecutions unit at the San Diego County District Attorney's Office predicts:
"I think we need to prepare ourselves for a huge wave of more and more victims in the next five to 10 years, unless we train our law enforcement and prosecutors how to deal with it."
Mr. Greenwood says the hardest part of his job is finding out about abusers in the community. That requires people to report suspected abuse and for police to treat it like the serious crime it is.
mmLearn.org continues to provide the latest information to support caregivers of older adults. In our most recent webcast – Financial Abuse of the Elderly - Dr. Robert W. Parker, MD, Chief of Community Geriatrics at UTHSCSA, examines effective ways to help loved ones avoid elder financial abuse as well as share a personal story of his family's experience with elder fraud. Elder abuse and specifically financial fraud is real and this problem is growing rapidly. Experts say that senior financial abuse will be the crime of the 21st century. Learn what you can do to protect yourself and your loved ones. Watch Now.