What's bett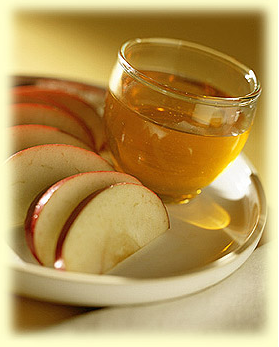 er than celebrating feast days and holidays with family and friends? With traditional foods and activities, these times help us remember the days of our youth and allow us to recapture the traditions and rituals that hold a special place in our heart. The desire and need to celebrate these events does not necessarily change as we age; if anything commemorating and enjoying holidays helps bring more life to our years.
We have become accustomed to seeing Christmas decorations and gifts all on display long before the Halloween pumpkins or Thanksgiving cornucopias have barely had their chance to fade.
While still enduring the end of a hot summer, this is not necessarily a time to be thinking of having a New Year's party, but on September 4th, the Jewish people will begin a two-day celebration of one of their most important religious holidays, Rosh Hashanah, commonly known as the Jewish New Year. It is also called the Feast of the Trumpets. The blowing of a ram's horn, a shofar, proclaims Rosh Hashanah and summons Jews to religious services. Although it does have its festive side, this special day tends to be more of a time for personal introspection and prayer.
Just imagine if you were a Jewish senior and what it must feel like if all your life you celebrated this special day with your family and friends and now living in a nursing or assisted living facility this very important event is not mentioned or noted in any way. Unfortunately, for many Jewish elders, that is the case especially if the care staff is unfamiliar with Jewish customs and traditions.
Making a special effort to recognize Jewish holidays and providing a simple fare of apples dipped in honey, a Rosh Hashanah tradition, would bring such joy and comfort to a Jewish senior and one which could certainly be shared with non-Jewish residents.
Also in the month of September is Yom Kippur known as the Day of Atonement and considered the holiest day of the year for Jews. This day is traditionally observed with a 25-hour period of fasting and intensive prayer.
These holy days are just two of the many opportunities to recognize and engage Jewish seniors in simple yet respectful ways. To learn more about Jewish customs and traditions go to mmlearn.org for a free online series on Cultural Sensitivity Training for Caregivers Who Serve Jewish Seniors. This series, which also includes an overview of Judaism as well as a session on Jewish traditions of death and dying, is especially focused on providing non-Jewish caregivers with some insight and awareness about Jewish culture and traditions so that they can be better prepared to care for Jewish seniors.