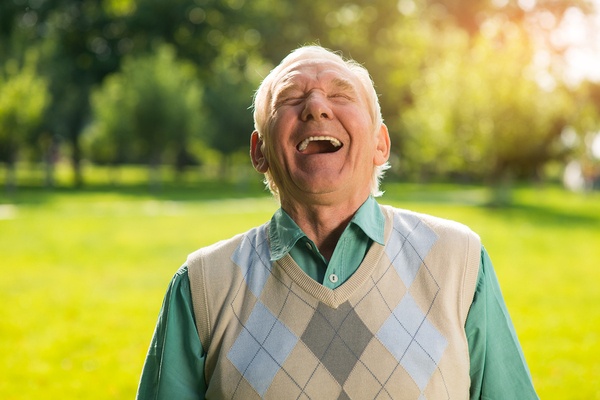 Proverbs 17:22 tells us, "A merry heart doeth good like a medicine: but a broken spirit drieth the bones."
We can think of no better embodiment of this saying than when it comes to caregiving. Here's a closer look at why embracing happiness -- even amidst some of life's greatest challenges -- is an invaluable pursuit.
The Best Medicine?
We've all heard the expression "laughter is the best medicine." Think it's just a pithy adage? Think again. In fact, a breadth and depth of research tell us that laughter has profound psychological and physiological benefits.
For starters, laughter is a powerful form of stress relief which works in a number of different ways, including increasing endorphins released by the brain; decreasing your stress response; and alleviating tension, according to the Mayo Clinic. And not just in the moment, either, but with long-term payoffs. From improving your mood and increasing personal satisfaction levels to boosting the immune system and even relieving pain, laughter is an easy, inexpensive, and efficient healing technique.
Adds The Independent, "Laughter, humor, and happiness play a key role in good health and longevity, and can positively affect diseases and conditions as diverse as high blood pressure, flu,heart disease, arthritis, and diabetes." It can even help you live longer!
Laughter and Caregiving
Because of the many ways laughter makes life better, many hospitals and health centers are now offering "humor therapy" to patients, which can include everything from watching movies to reading books, according to The Independent. Additionally, researchers have also deemed "clown therapy" to be as effective as medication in reducing aggression levels and increasing communication in seniors with dementia.
However, humor therapy doesn't have to take place in a formal context in order for patients and caregivers alike to reap the benefits of a good guffaw. From sharing funny jokes and stories to outings to comedy clubs, there are many everyday ways for caregivers to infuse more levity and laughter into the lives of their loved ones -- even (or maybe especially) the cranky ones.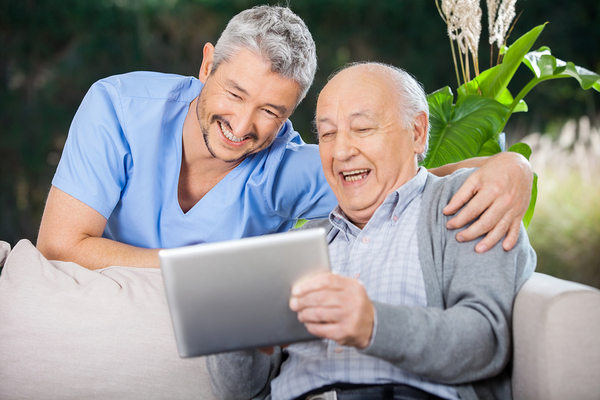 When it comes to caregiving, this also extends to having the ability to dig deep and find the humor in your own predicaments when you can. Continues the Mayo Clinic, "Find a way to laugh about your own situations and watch your stress begin to fade away. Even if it feels forced at first, practice laughing. It does your body good."
It can also be a wonderful way to diffuse tension, offset an awkward or challenging interaction, or reverse your perspective. Says RED NOSES, "Laughter allows us to see situations in a new light....While it may not solve our emotional upheavals, laughter can act as an important coping mechanism in overcoming obstacles."
For caregivers struggling to communicate with loved ones, meanwhile, laughter can also be a beautiful way to connect with those around us. "Laughter is a form of communication, not a reaction….It is our form of opening up to others," explains RED NOSES.
Elder caregiving isn't easy. Nor is being an elder in need of help. Luckily, there is a way to bridge the gap, and it's as simple as welcoming in a bit of levity. Proposes RED NOSES, "A smile transcends generations. It shows people that we like them and that we understand them." Ultimately, isn't that what caregiving is all about?
mmLearn.org offers a large library of free videos for caregivers of older adults, covering topics pertaining to senior care. Whether you are a healthcare professional or a family caregiver, if you are caring for an older adult we know that you will find mmLearn.org an essential learning and guidance tool for all of your caregiver training needs. For more useful content on all things caregiving, access our database of free online caregiver videos today.