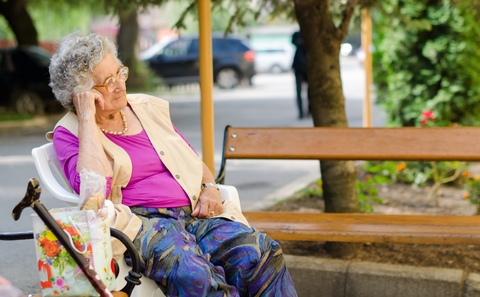 It was an early morning phone call from a concerned neighbor. She had been out for her evening walk the night before and noticed an elderly woman standing near the street. The woman summoned her over and proceeded to talk at length about her husband who had recently passed away then invited her into her nearby home. Although the neighbor did not accept the invitation, she felt the woman's attempt for attention was cause for alarm. In pastoral care within a large church community I've learned that every day brings to light challenging situations that very often have no immediate or concrete solutions. One of these areas of concern is the number of elders living alone with no family living close by. While aging in place at home is often the preferred choice for many; when there is a situation of declining health of an older person living alone, there is much more cause for worry. This is especially true if the person suffers from some form of dementia.
The Alzheimer's Association reports that 800,000 people, one in seven of those with Alzheimer's disease, live by themselves in the community. In doing some research, I found that such was the case of the elderly woman. She was living alone in a home she had lived in with her husband for over 55 years. I also learned that her husband had actually died several years previously and his funeral was held at our church. Luckily I was able to contact her daughter who lived quite a distance away and was having a difficult time dealing with her role as a caregiver. In talking with the daughter, I felt she was just at a loss as to what steps to take, where to turn for help, or even what resources were available for her in the community.
People go through many major life changes such as marriage, parenthood or even graduation and there is often a period of preparation, perhaps even a time to learn a bit more of what to expect. That, however, is not the case with caregiving. We are not often given the opportunity to learn the skills in preparation to care for our elderly parents. The call may come from one day to the next; there is no time to prepare; just act.
With some help from neighbors and a list of community resources, including a recommendation to go to mmLearn.org for free online videos for caregivers, the daughter is now able to make some informed decisions. While it is still a very difficult journey and can feel overwhelming; she knows she is not alone and there is support out there for her especially in a community where people look out for each other and respond with a spirit of kindness and concern.
mmLearn.org is a FREE online website to assist caregivers of older adults in their role. Whether you're a new or experienced caregiver, this is a great resource for you.
ABOUT THE AUTHOR

Virginia Valenzuelz, MSW, MAPM
Virginia is a social worker with a real passion for the spiritual aspects of aging. She is a former mmLearn.org employee who now serves as a Pastoral Associate in a Catholic parish providing ministry to many groups, but in particular to the older parishioners. Her experiences working with seniors as well as caring for her own aging mother provide her many opportunities to help seniors in dealing with this important yet sometimes neglected aspect of aging. While we miss having her around on a daily basis we are grateful that she continues to be a voice for mmLearn by sharing her experiences of caring for seniors and her love of writing with us through her continued blog posts.