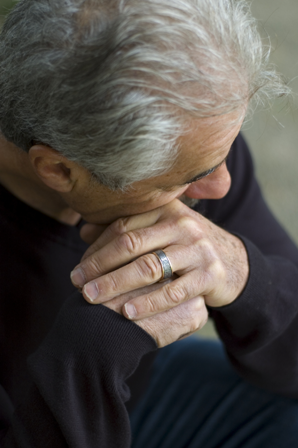 According to the National Institute of Mental Health (NIMH), "Depressive disorder is not a normal part of aging. Emotional experiences of sadness, grief, response to loss, and temporary 'blue' moods are normal. Persistent depression that interferes significantly with ability to function is not."
There is sometimes a misconception that the financial or social hardships that may accompany the aging process is an acceptable reason for the depression. Consequently, the diagnosis for depressive disorder may be delayed, misdiagnosed or dismissed altogether while being attributed to the normal aging process.
An important aspect to consider is an older person who is providing care for a spouse or other elderly family member. A study from February 2010 done by MetLife on working caregivers and employer health costs found that "20% of employed female caregivers over 50 years old report symptoms of depression compared to 8% of non-caregiving peers." The daily challenges of caregiving, which can lead to enormous stress, may not even be considered as a source of the depression, therefore the need for a perceptive healthcare professional asking the right questions is imperative.
Learning about depression in the elderly is a first step to becoming advocates for those in need of care. mmLearn.org offers an excellent resource of videos on depression and elders as part of the Ask the Geriatrician series. Dr. Thomas Weiss, a geriatric psychiatrist, will provide an overview of signs, symptoms and treatment of depression in older adults.