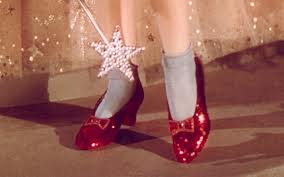 Dorothy travelled the yellow brick road far and wide to ask the Wizard of Oz to help her get back home not realizing that she had the power to do that herself by just clicking the heals of her ruby red slippers. Her home was the place she loved, a place where her Auntie Em, Uncle Henry and all her friends lived. Today's elderly may not be too different from Dorothy – unfortunately without the power of the red slippers – but in wanting to stay in their homes – to age in place.
As our society ages more and more families will be dealing with the issues of how to care for elderly parents. Are they safe in their home? If there's no family living close by; would it be best to have them live in an assisted living or nursing facility? There are so many questions to consider, but before making any decisions the most immediate concern may be how to respond to the parents' resistance to any move at all.
"I've lived in this home for 40 years."
"I'd rather die at home than in a strange place."
"Nowhere else will seem like home."
"I don't want to get rid of my stuff to move to a smaller place."
The United States Census Bureau reports that by 2050, people 65 and over will comprise 21 percent of the U.S. population. With this imposing figure on the horizon, the impact on services and quality of resources available to older adults will be tremendous, not to mention how it will affect the number of children who will be thrust into a caregiving role. So how can children honor their parents' wishes about remaining in their homes while feeling confident that they will be safe and have their needs met? Not an easy question to answer and one that will require some strategic planning along with coordinated efforts by everyone involved.
While we may not be able to give you a pair of the magic red slippers, we can introduce you to Maria Wellisch, RN, LNFA, who provides families with practical tips and sound advice in a recent webcast entitled Living Independently – A Healthy Choice. This webcast as well as many of our other videos at mmLearn.org will give you information and tips for ensuring your loved ones are safe and secure in their own home for as long as possible.