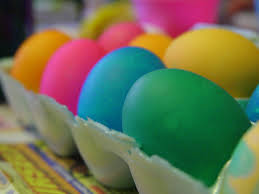 The calendar may officially signal spring time while many parts of the country are still covered in snow. Nonetheless as Easter approaches, minds turn to so many bright and beautiful thoughts or as Mark Twain so eloquently put it, "It's spring fever. That is what the name of it is. And when you've got it, you want – oh, you don't quite know what it is you do want, but it just fairly makes your heart ache, you want it so!
As much as we would like to hold on to that wonderful feeling of Easter with its' bright new beginnings all around us, it may be difficult to do so especially if you are a caregiver for a friend or family member. So often caregivers are so entrenched in their caregiving role that they may not be able to stop and savor what the world is offering during this time of year. Looking beyond the duties and responsibilities of caregiving may be easier said than done especially if you are the primary caregiver with little time or energy for anything other than caring for someone else.
For caregivers, the Easter season is a perfect time to discover new ways of taking time for enjoying life. Try cracking open that brightly colored Easter egg and savoring the goodness inside; it may help you find time for meditation, relaxation or prayer. Many of us have learned through our own years of experience that these efforts can help us to relax, defuse stress and experience greater calm.
mmLearn.org provides caregivers with an extraordinary variety of support and training to assist not only with the care of loved ones, but with videos that offer spiritual and prayerful comfort. In Savoring Easter Eggs; Savoring the Word, from our Prayers for Caregivers series, Kay Gerfers weaves the Easter story through her children's lives and gives us much to think about throughout the Easter season and beyond.