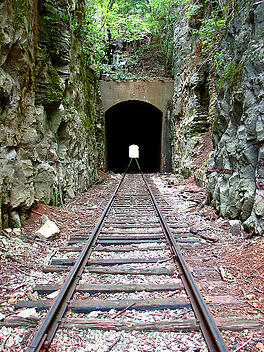 In the Rule of Benedict: A Spirituality for the 21st Century, author Joan Chittister, tells the following story:
"A visitor went to see a very famous rabbi and was shocked at the sparsity, the bareness, the emptiness of his little one-room house. 'Why don't you have any furniture?' the visitor asked, 'Why don't you?' the rabbi said. 'Well, because I'm only passing through,' the visitor said. 'Well, so am I,' the rabbi answered."
After reading that short tale, I was struck by the reality of a house filled with so much stuff. From the accumulation of clothes and shoes in the closet that are no longer in style or "may" fit again, to one-of-a-kind finds from the flea market, not to mention the stack of must see magazines and newspaper clippings that I'll get to read some day; all of it placed neatly and unobtrusively in different places throughout the house. So when does the buildup of all these trinkets and treasures become hoarding or does it?
A case study on Hoarding Behavior in the Elderly by Henriette Kellum, LCSW, states:
"Consensus is that approximately two to five percent of the general population in the United States has a hoarding condition. A recent study found that the onset of hoarding behavior is most common in adolescence, but that the severity increases with each decade of life (Ayers et al, 2010)"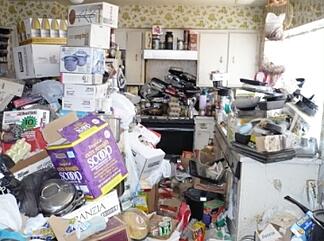 While stockpiling what appears for many to be useless clutter may be difficult for family members to deal with in aging parents, it's the danger they may be placing themselves in that is cause for alarm. Keeping your loved ones safe at home should take priority. Caregiverstress.com provides the following to look for in someone who may have a tendency towards hoarding:
Piles of mail and unpaid bills.
Difficulty walking safely through a home.
Frustration trying to organize.
Difficulty managing activities of daily living.
Expired food in the refrigerator.
Jammed closets and drawers.
Compulsive shopping.
Difficulty deciding whether to discard items.
A health episode such as a stroke or dementia.
Loneliness.
Caring for a loved one with an inclination towards hoarding can be extremely challenging and may cause additional stress. Learning ways to care for someone who is hoarding and seeking support will provide confidence and a better understanding of the situation with less anxiety.
mmlearn.org provides free online videos for caregivers of older adults. Dr. Thomas Weiss, Geriatric Psychiatrist, presents "Hoarders and Elders" as part of our Ask the Geriatrician series. Dr. Weiss provides an overview of hoarding and treatments.