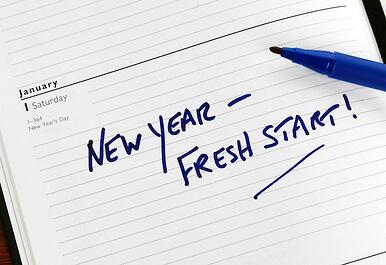 We all do it! New Year's resolutions are always made with great intentions! We're going to eat better, lose weight, sleep more, watch less television, smell the roses, and complain less! These resolutions stack up pretty closely to most Americans since according to the University of Scranton, the top 10 New Year's resolutions are:
1) lose weight;
2) getting organized;
3) spend less, save more;
4) enjoy life to the fullest;
5) staying fit and healthy;
6) learn something exciting;
7) quit smoking;
8) help others in their dreams;
9) fall in love; and
10) spend more time with family.
Although caregivers of older adults may have their own resolutions, they also have to think about the person for whom they care and perhaps how any changes in life style may affect their caregiving. The following list of resolutions for caregivers by Kristine Dwyer, LSW, published in Today's Caregiver online site offers some simple, yet valuable ways to maintain balance and continue to provide the best possible care for your loved ones:
The important role of caregiving deserves the utmost attention, so if you're a caregiver, take these resolutions to heart and say – in this New Year, I will...
Learn to take one hour out of each day just for myself to read, enjoy a hot bath, journal my thoughts or call a friend.
Attend at least one caregiver support group to realize that I am not alone and that I can learn from others.
See my doctor for a physical exam and give my own health needs more priority.
Use respite care at least once a month so that I may get a break and be refreshed. I will consider using the time I have to discover the benefits of massage therapy, the joy of a musical concert, self expression in a painting class or a day at the spa to find stress relief.
Eat a balanced diet and exercise at least 20 minutes three times a week even if all I can do is walk around the house, up and down the stairs or exercise from a chair.
Seek out one new resource to support my caregiver role such as chore services, housekeeping, home care programs or delivered meals.
Try to find a way to laugh or find humor in the day amidst the sadness or discouragement I may feel.
Reach out to my family and friends to help with my loved one so that the weight of my responsibility can be lifted and shared.
While most resolutions usually only last through perhaps the first week in January, print out this list and post it on your refrigerator door as a daily reminder that your role as caregiver can only be done by taking care of yourself first.
mmLearn.org provides over 200+ free online videos for caregivers of older adults. Our website features videos on Depression, Caregiver Help and Stress, Grief & Loss among many others topics for caregivers.
Please help us out by taking a minute to fill out the short survey at the end of each video – this helps mmLearn provide these excellent videos free for all caregivers.