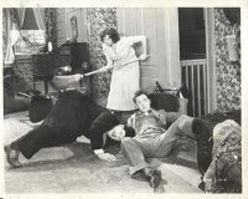 Do you remember watching those old Laurel and Hardy movies where one or the other would fall down a flight of stairs or inadvertently slip on a rug and end up flat on their back? It seemed funny at the time especially since after each fall, they were able to recover quickly and move on to the next spill. Falls are certainly not funny when it comes to elders; in fact according to the Centers for Disease Control and Prevention (CDC) "Each year, an estimated one third of older adults fall, and the likelihood of falling increases substantially with advancing age. In fact, falls are one of the leading causes of death due to injury among the elderly.
There are many ways to help seniors prevent falls through education, exercise and even home assessments and modifications. September is Fall Prevention Month; take the time to learn more about these simple steps to help older adults live longer and better lives by going to mmLearn.org and watching one of our many informative videos on our "Falls – A New Look at a Difficult Problem" presented by Maria L. Wellisch, RN, LNFA. This program is helpful for family caregivers caring for older adults as well as healthcare professionals who care for the elderly.
The program addresses:
Prevention of falls.
What to do when a fall occurs.
How to create a safer environment for the elderly in their homes or in a skilled care setting.