We recently covered the profound health benefits of laughter for seniors, but did you know that laughter is also good medicine for caregivers too? While the responsibilities of caregiving often seem like anything but a laughing matter, embracing the lighter side of things can help you maintain a positive attitude and enjoy a better quality of life.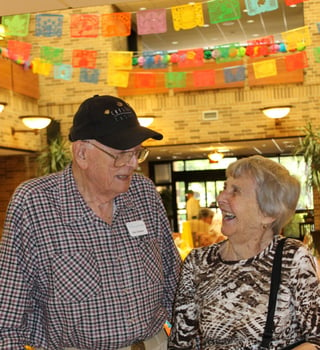 If you can't laugh at life's little moments, consider making your own opportunities to laugh.
Welcoming the Minutes and Moments
We're well aware that caregiving isn't exactly a barrel of laughs -- particularly when you're dealing with someone who is in great pain, suffering from memory loss, or prone to being cranky. Looking for moments of levity during particularly overwhelming times can be an invaluable lifeline.
Worried that your laughter will be perceived as offensive to your aging loved one? Set those fears aside. Not only can laughing together at a surprising, unexpected, awkward or amusing moment help you bond and connect, but your good mood can be reassuring to seniors. Not to mention that nothing diffuses a particularly tense or difficult moment quite like laughter.
But as it turns out, there are benefits to laughing at someone one -- if that "someone" is yourself. Researchers from the University of California at Berkeley and the University of Zurich recently determined that people who could see the humor in their own situations were generally disposed to having better personalities and more positive outlooks.
Importing Humor
Having trouble finding anything funny about your overwhelming day-to-day responsibilities? You're not alone. But you can make your own opportunities for laughter by turning to television, books, movies, and other forms of media. Do you or your loved one have a favorite funny television program or movie? If so, sitting down to enjoy it together can bring some much-needed humor into your life.
Don't think you have time for watching television? Try thinking about it a different way: Anything that helps you be more relaxed and positive about your role actually helps you become a better caregiver.
But even when time is truly tight, there's still time for humor. Subscribing to an online "joke of the day" email or checking out a humorous video on YouTube can reap invaluable returns in mere minutes.
Exporting Humor
Shared humor among caregivers also has a multitude of therapeutic effects. If you can get away for a coffee date with a fellow caregiver or attend a support group, don't be afraid to share your experiences -- the serious and the funny. Not only is this exchange a useful coping mechanism, but it can help you and others like you cut through feelings of isolation and find common ground.
Why Laughing Matters
If you're still thinking of laughter as more of a luxury than a necessity, consider this: Laughter is also linked with a number of health benefits, including everything from increasing blood flow and boosting the immune system to lowering blood pressure and relieving pain. Stanford researcher William Fry, meanwhile, linked laughter with bolstering the cardiovascular system and preventing blood clots. In other words, laughter has the real potential to save lives.
Fake It Until You Make It
One last thing to keep in mind? Sometimes you just won't feel like laughing. Do it anyway. Why? Because while research shows that the brain can distinguish fake laughter from real laughter, it also indicates that fake laughter can have a stimulating effect that leads to the real deal and all of the benefits that go along with it.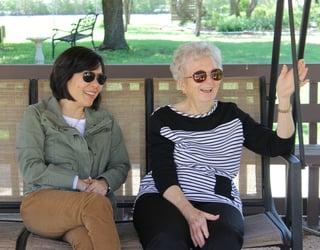 Laughter enhances bonds while promoting positivity.
According to the Social Anxiety Institute, "He who laughs most is most likely to last." With so many demands on your time, why not grasp any opportunity you can to feel better? And the best part of embracing the humor in life? There's absolutely no downside to it.
If you're looking for a comprehensive resource for family caregivers, check out our
online Family Caregiver Guide
.
mmLearn.org offers a large library of free videos for caregivers of older adults, covering topics pertaining to senior care. Whether you are a healthcare professional or a family caregiver, if you are caring for an older adult we know that you will find mmLearn.org an essential learning and guidance tool for all of your caregiver training needs. For more useful information on caregiving, be sure to access our database of free online caregiver videos.