The Baby Boomer generation is quickly changing the way society thinks about senior living. In particular, the "aging in place" trend is coming on strong, with over 90 percent of people over the age of 65 wanting to remain in their current residences for as long as possible, and 80 percent believing that they'll always live in their current residences, according to a report from the AARP. However, the truth is that while aging in place may be the most sought-after outcome, it's not always possible. Let's take a closer look at some signs which indicate that the time to age in place may be coming to an end for your aging loved one.
For many older adults, aging in place is the option. But for how long?
Physical Factors
Even seniors who stay in the very best physical shape experience natural age-related declines in physical ability. Older adults who are no longer able to handle basic day-to-day responsibilities may just need an extra set of hands, or it may be time to consider a different living situation.
In some cases, a nearby friend or family member who can stop in regularly to help with anything from opening cans to reaching items on high-up shelves, is all an older adult needs to remain safely in his home. Assistive devices can also offer invaluable help for seniors.
In other cases, physical changes which interfere or compromise basic mobility may require something more -- not just for the health and safety of seniors, but also for the peace of mind of the people who care for them.
The same applies to routine home maintenance tasks. Changing light bulbs, raking leaves, and taking out the garbage can become increasingly challenging for older bodies. Keeping an eye out for these changes and implementing mechanisms to help seniors in need is a critical part of promoting safe aging in place. Without these mechanisms, aging in place may not be the optimal situation.
Mental Factors
Some cognitive decline is also a common part of the aging process. However, when it begins to interfere with basic self-care, it may be time for caregivers to consider alternate options. Everything from forgetting to turn off the stove to neglecting to take medicine as prescribed can interfere with senior health and wellness.
Again, home health care can help ensure safety for seniors living at home, but when these changes recur with more frequency, the cost of aging in place may simply be too much -- not just financially, but also when it comes to the well-being of older adults.
Emotional Factors
Contact with others is an essential part of human health and well-being. When many older adults opt to age in place, they do so with a network of family, friends, and neighbors in place. Unfortunately, as time passes the situation can change leaving seniors more isolated than initially anticipated.
Decreases in opportunities for socialization can lead to everything from isolation to loss of mobility. Factor in that loneliness and lost connections among seniors living at home have also been linked with increased incidences of depression, and the situation becomes even more critical. Age-related driving limitations further complicate the issue.
Programs like Meals on Wheels and shuttle services for seniors offer regular contact to homebound seniors, but it's not always enough. While physical health may get the lion's share of attention when it comes to assessing the ongoing ability to live alone, the support team must also consider equally important emotional factors.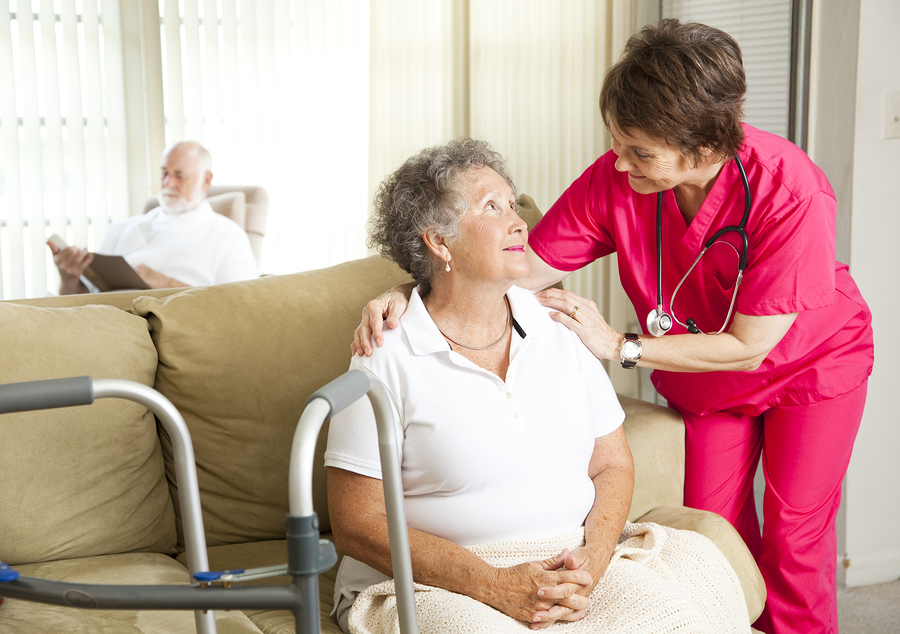 Regular social contact -- whether from a family member, neighbor, or
home health aide -- is an essential part of successful aging in place.
For seniors who are in good health, active, and surrounded by a strong social network, aging in place remains a desirable option. However, when these factors start to change, it may be time to reassess whether aging in place is truly the right choice for your changing needs.
If you're looking for a comprehensive resource for family caregivers, check out our
online Family Caregiver Guide
.
mmLearn.org offers a large library of free videos for caregivers of older adults, covering topics pertaining to senior care. Whether you are a healthcare professional or a family caregiver, if you are caring for an older adult we know that you will find mmLearn.org an essential learning and guidance tool for all of your caregiver training needs. For more useful resources for caregivers and seniors, access our database of free online caregiver videos today.