Caregiver stress can become a chronic, long-term health challenge without proper intervention. While eating right, exercising, carving out "me time," and relying on a support network all offer valuable ways to counter caregiver burnout, a growing body of research points to another way to keep stress at bay: meditation. Let's take a closer look at meditation, along with its many benefits for caregivers.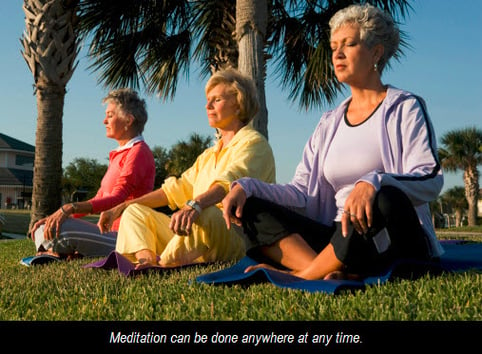 About Meditation
Practiced by humans for thousands of years, meditation is a simple way to "restore your calm and inner peace," according to the Mayo Clinic. While the practice originated for spiritual purpose, it has since evolved into a common relaxation technique.

There are many different types of meditation, although all have the same goal: to promote inner peace. Popular meditation techniques include visualization (AKA guided meditation), mantra meditation, qi gong, tai chi, yoga, transcendental meditation, and mindfulness meditation. The latter, in particular, has been linked with beneficial outcomes for caregivers.


Meditation and Caregiving
A recent study conducted by scientists at Vanderbilt University determined that mothers of children with disabilities who practiced mindfulness-based stress reduction for a period of six weeks saw significant improvements across anxiety, sleep, depression and well-being. It follows that these same benefits carry over to all caregivers.

Unfortunately, many caregivers are afraid to try meditation because they worry about the time commitment or doing it "wrong." In fact, meditation can take mere minutes a day, be practiced easily on your own, and involves little training or skill. Even the act of breathing deeply can help you gain focus. Recommended by the Mayo Clinic as an effective technique for beginners, this involves slow, deep breathing while focusing your attention on various parts of your body, noting areas of tension and relaxation.

An alternate meditation method involves creating and repeating a mantra. While these can be religious, they are often also secular. Premier Home Care Services recommends the following mantras:
"I'm proud I can offer loving care that others may not be able to."
"I'm not perfect, and that's okay."
"I will enjoy the moments we can have together in peace."
"The person I love is still with us."
"I have the right to ask for help if it becomes too much."
Each of these is not only positive, but also helps keeps things in perspective.
An alternate method of meditation involves walking while meditating. Whether you take a stroll around the neighborhood or on the treadmill, resist the temptation to focus on the destination, and instead concentrate on the act of lifting and placing your feet. This can help you still your mind and focus on existing in the moment -- a state of being that busy caregivers often miss out on.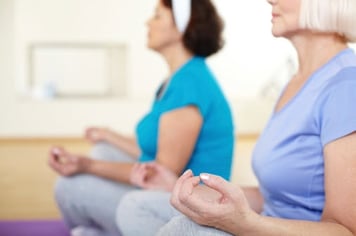 While getting the hang of meditation does take practice, the relaxing rewards are well worth the effort. Need help getting started? Check out mmLearn's useful videos on "Introduction and Breath-Based Relaxation" (available in English and Spanish) and "Guided Relaxation" (also available in English and Spanish). Additionally, mmLearn.org is home to a comprehensive collection of helpful training videos offering critical caregiver support.
mmlearn.org offers a large library of free videos for caregivers of older adults, covering topics pertaining to senior care. Whether you are a healthcare professional or a family caregiver, if you are caring for an older adult we know that you will find mmlearn.org an essential learning and guidance tool for all of your caregiver training needs.