If you work as a care giver for an individual with dementia, then you are likely aware of the confusion, frustration, and mood swings that often accompany neurodegenerative diseases. It takes tremendous patience and compassion to routinely work with those afflicted with Alzheimer's and other forms of dementia, and even the most basic of habits can seem like daunting ordeals. Fortunately, there are a number of ways you can aid dementia patients and help them live an easier and more fulfilling life. Music for dementia patients has proven to be tremendously useful in mitigating the core problems that dementia patients face.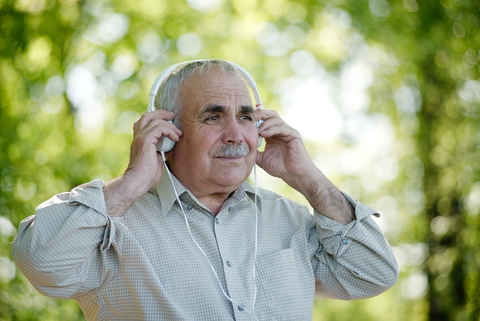 Music can help dementia patients to piece together past memories.
Music Can Help Evoke Memories
Music is known to evoke powerful emotional responses in the listener, often rendering vivid memories or feelings that are linked to the tune. This can be a powerful tool when caring for those with dementia because it can aid the individual in conjuring vital memories that may otherwise evade them. The sounds and rhythms of music interact with the motor center of the brain. The motor center is known to remain intact, even late into the degenerative process of dementia.
As a result, even after patients have lost most of their faculties or awareness, they are still capable of absorbing and processing music. It is helpful to choose songs that the patient was familiar with throughout their life. If you know what type of music they listened to most frequently, you can customize a playlist to suit their tastes. In the event you are uncertain of their music tastes, consider picking a hit song from each decade, one that they would likely have heard countless times throughout their life.

Music Can Help Dementia Patients Deal with Frustration
Those with dementia often experience greater stress and confusion due to their frustrations with memory. Music can be used to help calm the individual, allowing them to cope with their stress more easily. Studies show that music has a profound emotional influence on the listener. By playing calming and rhythmically focused tunes, such as classical music, you can ease their anxiety and frustration. By singing and dancing, you can physically engage the person in the music, which will help to redirect their attention from their frustrations or worries. Take note of specific times of day or activities that tend to cause the individual elevated levels of stress or anxiety. By preparing for these moments in advance, you can ensure music is playing at critical times when the patient will benefit most.

Music Can Encourage Bonding
In late stages of dementia, patients often withdraw from family members and significant others and can no longer express their love and affection as effectively. Through music therapy, you can engage the person on a deeper level and encourage singing and dancing between loved ones. Oftentimes, the improvement of mood brought on by music and dance will encourage the expression of other emotions such as hugging and kissing.
Dementia is a devastating neurodegenerative disease that impacts the lives of roughly 5.3 million adults nationwide. Fortunately, dementia patients can experience considerable relief from their symptoms by utilizing the benefits of music to their advantage. To learn more about how music can aid those suffering with dementia, visit mmLearn.org. They have an extensive collection of videos regarding aging and dementia
such as A Discussion on Various Forms of Dementia by Jason Schillerstrom. This videos is also available with subtitles in Spanish.
mmlearn.org offers a large library of free videos for caregivers of older adults, covering topics pertaining to senior care. Whether you are a healthcare professional or a family caregiver, if you are caring for an older adult we know that you will find mmlearn.org an essential learning and guidance tool for all of your caregiver training needs.