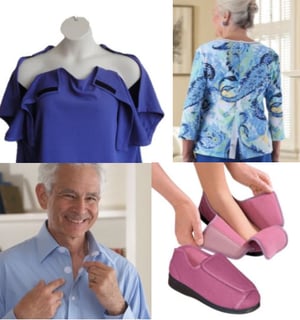 While getting dressed and undressed each day may not be an issue for most people, it can be a major obstacle for older adults and people with physical limitations. But the impact doesn't end there. Also faced with dressing- and undressing-related challenges? Caregivers for older adults and people with physical limitations. The good news? Adaptive clothing offers help for patients and caregivers alike. Here's a closer look at adaptive shirts, pants and shoes, along with where to find them.
What Is Adaptive Clothing?
People with disabilities face many challenges that the average person takes for granted. For example, while buttoning and unbuttoning a shirt is easy for most people, it's a painful struggle for someone who has arthritis. And this is just one example of the many different ways having a physical disability can turn a seemingly simple task into an almost impossible—and extremely frustrating—one.
Enter adaptive clothing. Designed to make dressing and undressing easier, adaptive clothing is modified to make these everyday tasks easier and less painful. Examples include tops and shirts with Velcro and magnetic closures instead of buttons; tops that open at the back, shoulder or side; pants that open partially or completely down the sides; wheelchair pants that can be put on while remaining seated in a wheelchair; and shoes with Velcro openings which can be stepped directly into and then fastened.
Essentially, each of these options means new possibilities for people with physical limitations and the people who care for them.
The Benefits of Adaptive Clothing
Adaptive clothing offers many benefits to older adults and people with physical limitations. For starters, people with debilitating conditions often experience painful joint movements when dressing and undressing. In limiting the need for these movements, adaptive clothing offers pain relief.
Adaptive clothing also helps to reduce emotional stress related to dressing, as well as the frustrations many people feel when they can no longer complete tasks that were once easy for them.
Furthermore, some people don't like to be handled. Adaptive clothing lets individuals do for themselves as much as possible, which can also facilitate feelings of control, independence and well-being.
There are benefits for caregivers, as well. Not only does adaptive clothing reduce the physical strain associated with dressing and undressing care recipients, but it's also easier and less time-consuming.
Where to Find Adaptive Clothing
While adaptive clothing may once have been hard to find, it's becoming increasingly mainstream. The Runway of Dreams Foundation works to empower people with disabilities—and by proxy their caregivers—by raising awareness about adaptive clothing.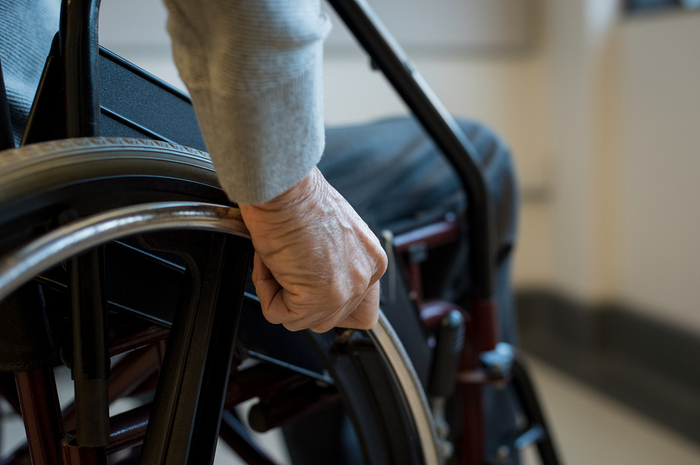 And it's working: Last year designer Tommy Hilfiger debuted an adaptive clothing collection for adults with physical disabilities. Dubbed Tommy Adaptive, the collection included shirts, pants, jackets and dresses for men and women with features including magnetic zippers, Velcro closures, and adjustable hems, according to Today.com.
Said Tommy Hilfiger in a statement, "Inclusivity and the democratization of fashion have always been at the core of my brand's DNA. These collections continue to build on that vision, empowering differently abled adults to express themselves for fashion."
Additionally, many different stores carry adaptive clothing, including Silvert's, Resident Essentials, and Buck and Buck, as well as Zappos, Amazon, Walmart, and eBay.
Not in the market for an entirely new wardrobe? It's also possible to modify regular clothing into adaptive clothing. Or, inquire about alterations at a local alterations shop.
The takeaway? While caregiving for people with physical limitations has its challenges, dressing doesn't have to be one of them. Adaptive clothing offers caregivers invaluable partnership in attending to this daily task.
If you're looking for a comprehensive resource for family caregivers, check out our
online Family Caregiver Guide
.
mmLearn.org offers a large library of free videos for caregivers of older adults, covering topics pertaining to senior care, including this NEW video Adaptive Clothing for Seniors. Whether you are a healthcare professional or a family caregiver, if you are caring for an older adult we know that you will find mmLearn.org an essential learning and guidance tool for all of your caregiver training needs. Access our database of free online caregiver videos for more caregiver support resources today.