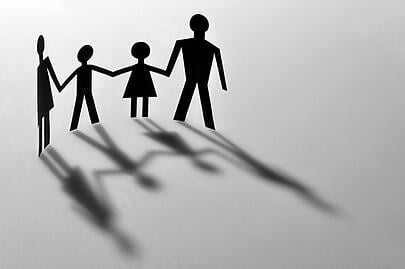 The responsiblies of caring for aging parents are numerous. Having siblings to help with the day-to-day tasks can be helpful as it offers an extra set of hands, divided responsibilities as well as a close family member to talk with. This can be a blessing for many - but for others the challenges of shared eldercare can far outweigh the benefits.
Shared Eldercare Challenges
For many adult siblings the childhood differences that we assumed were long gone seem to resurface in light of this new role as caregiver.
It is important to remember that your childhood habits may influence how you deal with what's going on today. Old sibling rivalries can resurface and dominate personalities from childhood often emerge. The child who was known as being "bossy" growing up may once again be more dominant and take charge of the situation. Remember that you and your siblings are probably experiencing strong emotions which can also color your judgment. Chances are, you are coming to this new role with different ideas about what your parents need and different resources to contribute. But what if you were able to pull together as a team to share the caregiving responsibilities, and support each other?
5 Stategies for Cohesive Sibling Eldercare - A gift for your parents!
Hold Family Meetings
It's usually worth traveling long distances to start talking things over face to face before an emergency arises with your parents. At some point you may need to collaborate on living arrangements, medical care, finances, and legal matters. If this can't be done in person consider telephone conferences to get you started.


Decide on Roles
Without a plan, it's easy for one sibling to become overburdened, especially if they're the only one who lives close by. Use your family meetings to determine what each family member will do from paying bills to preparing meals.


Bring in Outside Experts
Geriatric care managers are like team captains who work with families to coordinate all aspects of care. Your family physician and social worker can also guide you to the resources you need.


Share Information
Keep each other up to date about family developments and general news about aging. Consider using one of the many caregiver apps available to help you all stay up-to-date on medications, appointments and other important information. Greater knowledge can expand your options and ease your doubts.


Express Compassion


Remember that your brothers and sisters may be going through a tough time dealing with your parents getting older. Caring for yourself and each other will keep up your strength, and help you to communicate with each other about sensitive issues.
If you're searching for help with caregiving, we invite you to watch our free videos dealing with issues of aging adults and their caregivers.
Here are a few caregiver videos we know you will find helpful:

Home for the Holidays
Presenter Maria Wellisch will let you know what to look for in your aging parents in your next visit.
They're You're Parents Too
Author Francine Russo shares her own experiences of sibling caregiving.
What is a Geriatrician and Do I Need One?
Rosa I. Vizcarra, M.D. -
Share mmLearn.org's video resources with your siblings, it will make your co-caregiving easier for you, your siblings, and your parents.
If you're looking for a comprehensive resource for family caregivers, check out our
online Family Caregiver Guide
.