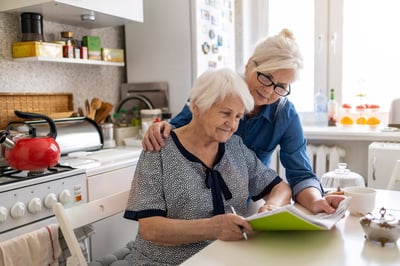 Whether you care for a parent, grandparent, or another aging relative, transitioning to the role of family caregiver can be a challenge. Many family caregivers feel ill‑equipped to make tough decisions about long‑term care options, appropriate levels of care for loved ones with declining health, or even legal, financial, and medical terminology related to end‑of‑life decisions.
Legal, financial, and medical experts all agree that advance care planning is important for aging adults or anyone diagnosed with a terminal illness. Those who make their wishes known in advance are giving a great gift to their families.
Below, we unpack the important aspects of advance care planning.
What Is Advance Care Planning?
Advance care planning "involves learning about the types of decisions that might need to be made, considering those decisions ahead of time, and then letting others know—both your family and your health care providers—about your preferences," according to the National Institute on Aging.
During the process of advance care planning, an individual's wishes are spelled out in a legal document called an advance directive.
Living wills are a common type of advance directive. In the following video, Dr. Craig Klugman, Ph.D., gives a step‑by‑step explanation of how to use one website, TexasLivingWills.com, to complete advance directives.
How Advance Care Planning Helps Families
It's common to start thinking about the end of your own life when caring for a sick or dying loved one. Especially if your loved one has dementia, you might find yourself with more questions than answers. What kind of care do they want? What decisions and preferences do you wish they'd made clear before their mental capabilities or speech began to wane? And the next question: What do you want your family to know about your wishes later in life?
The Centers for Disease Control and Prevention (CDC) reports that a staggering 70% of Americans don't have an advance care plan. Give the gift of peace of mind by not being part of that statistic. Take time to complete advance directives. And if your aging loved one is still able to communicate clearly with you, schedule a time to fill out advance directives with them as soon as possible.
Types of Advance Directives
Advance care planning is one way to see that your loved one's medical and non‑medical wishes are followed in case of a life‑threatening or terminal disease.
Be sure to cover these advance directives, which are described by Dr. Klugman in the following video:
Medical directives (such as "Do Not Resuscitate" — DNR — orders or preferences about intubation)
Powers of attorney
Mental health treatment directives
Also, consider these documents (which are explained in the video):
Ethical wills
Organ and body donation choices
A letter to family and friends
Funeral arrangements
A last will and testament


Health Care Planning
People often focus on end‑of‑life decisions during their advance care planning. However, many difficult decisions come before ventilators, organ donation, and funeral arrangements. If your loved one is still able to communicate, take time to talk about health care planning for the next few years.
Be sure to discuss their wishes about these types of care:
Home care (in their home, in your home, live in)
Senior housing
Assisted living
Personal care homes
Long‑term care homes (nursing homes)
Combination (including adult daycare)
In the following video, we discuss the types and levels of care to help you make important decisions about the appropriate care for your aging loved one — whether or not they can make their wishes clear at this time.
Legal Planning
Remember, an advance directive is a legal document. This might seem intimidating at first, but there are many lawyers, judges, and online legal resources to help you craft a comprehensive document that will stand the test of time.
How to Get Started with Advance Care Planning
The most critical step in advance care planning is just getting the conversations started. Most people don't enjoy talking about death or end‑of‑life care. It's normal to feel reticent and uncomfortable raising these topics in everyday conversations. Some families find it helpful to schedule a few planning sessions in advance.
These resources can help guide you through the process:
By learning and talking about advance care planning, you can make informed decisions for your family member and help give your own future caregiver peace of mind.