No matter how old you are, sleeping is essential for health and well-being, and the "Importance of Sleep for Seniors" cannot be overlooked. Scientists are increasingly advancing our knowledge of the link between Alzheimer's disease and sleep, including recent groundbreaking research from the Washington University's Knight Alzheimer's Disease Research Center indicating that there's a "bidirectional relationship" between the development of the disease and sleep and circadian problems. The takeaway? In addition to being a common symptom of Alzheimer's disease, sleep problems may also be an early indicator of the disease. In either case, the more caregivers understand about sleep and Alzheimer's, the more they can help both themselves, and the people for whom they care, to enjoy more restful sleep.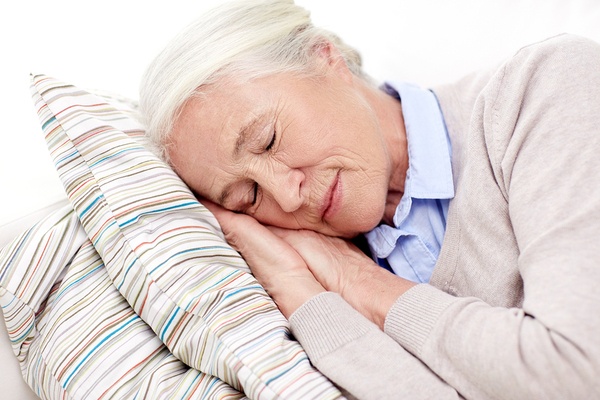 Sleep is a vital part of wellness for people with Alzheimer's -- and their caregivers.
Understanding the Causes
Many different factors impact the sleep patterns of people with dementia and Alzheimer's. These include obstructive sleep apnea, depression, and restless legs syndrome. If you suspect that your aging loved one may have one of these or another underlying condition, check with his or her physician to determine whether there are any potential sleep interventions.
Tips for Promoting Better Sleep
It's also possible for caregivers to promote better sleep by promoting certain lifestyle changes, including the following:
Seek out opportunities for daytime exposure to light -- both in the form of natural light as well as through specialized light boxes.
Limit products containing caffeine, which can lead to sleeplessness, as well as alcohol, which can trigger anxiety and confusion.
Schedule medications that have a stimulating effect in the morning and those that cause drowsiness in the evenings. Most doctors do not recommend sleeping pills as they can increase the risk of trips and falls.
Encourage walks and other forms of physical activity.
Restrict daytime sleep by limiting naps and limiting them to earlier in the day, and avoid napping in bed.
Establish a regular routine for sleeping and waking, including setting up a comfortable sleep "zone."
In addition to helping people with Alzheimer's sleep better at night, these techniques can also be useful in preventing sundowning symptoms experienced in the late afternoon and early evening.
Coping with Sleep Issues
Sleep issues can take a toll on both caregivers and patients, but it's important to remember that the behavior is not deliberate. If your aging loved one wakes up at night, calmly try to determine whether there's a particular reason for the wakefulness, offer a gentle reminder that it's bedtime, and help him or her back to bed.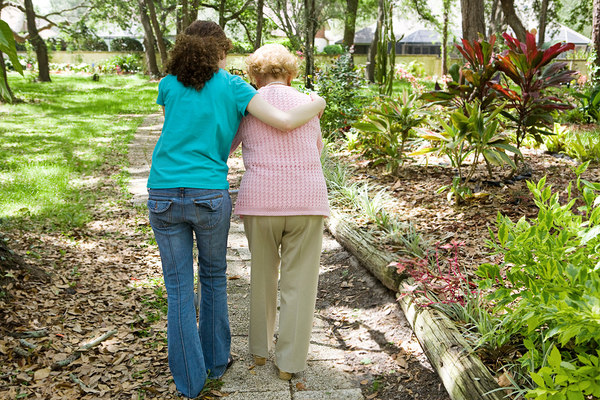 A walk in the sun can work wonders.
Be careful not to overlook the importance of your own sleep, which can ultimately help you provide better care. If sleep deprivation is starting to interfere with your caregiving abilities, enlist the help of a friend, family member or professional caregiver for respite care. Your local Alzheimer's association can provide information on resources in your area.
The good news? There is hope ahead for solving issues of sleep and Alzheimer's. Says Washington University Assistant Professor of Neurology, Yo-El Ju, of her team's research, "We think this may help us get a better feel for the way this connection flows - does sleep loss drive Alzheimer's, does Alzheimer's lead to sleep loss, or is it a combination?" That will help us determine whether we can change the course of disease with pharmaceuticals or other treatments." In the meantime, these tips can help you minimize the symptoms of sleeplessness thereby improving both health and quality of life -- for you and your aging loved one.
If you're looking for a comprehensive resource for family caregivers, check out our online Family Caregiver Guide.
mmLearn.org offers a large library of free videos for caregivers of older adults, covering topics pertaining to senior care. Whether you are a healthcare professional or a family caregiver, if you are caring for an older adult we know that you will find mmLearn.org an essential learning and guidance tool for all of your caregiver training needs. For a breadth and depth of online training for caregivers, including how to care for and communicate with someone who has Alzheimer's Disease, visit mmLearn's database of free online caregiver videos today.