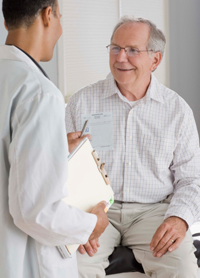 Now that I have your attention – let's discuss some of those issues that men usually don't like talking about – that is – your health! While women are traditionally known for being much more proactive in terms of addressing their health concerns, men, on the other hand, appear to be more reluctant to acknowledge and address their own health issues and hesitate in approaching health services. Much of the blame for this can be placed on society in general, which expects males to be "manly" and ignore pain. As a person ages, a little pain can get worse or may even signal something more serious going on in the body.
According to a 2001 report from the Center on Disease Control (CDC), "women are 33% more likely than men to visit a doctor in general, although the gap narrows with increasing age." An additional caveat from the CDC states, "Men also die younger than women. In 1920, women outlived men only by one year. Today, CDC figures show the life expectancy gap has widened. On the average, women survive men by over five years." These statistics should be enough to "scare" any man into giving their health some special attention.
Some of the disparities in the way males and females deal with their health issues may just come down to differences in how they communicate. Deborah Tannen, linguistics professor and author of You Just Don't Understand, believes that men and women "differ in the focus, or driving force, behind their communication." Tannen writes, "women want intimacy in conversation, to feel connected to others…..men want to give information while remaining independent of the other party." This could certainly be one of the reasons that men find it more difficult to seek help from a health professional.
One of the advantages of on-line learning is that you have the capability of watching a particular program at your convenience. What Men Need to Know is one of over 300 FREE videos on mmLearn.org presented by Dr. David Talley, MD, Urologist of Urology San Antonio.