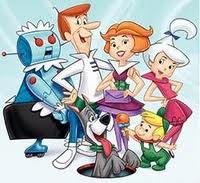 iPhones and iPads were probably just a fantasy that only the Jetsons could have imaged in their futuristic utopia of elaborate robotic contraptions in the early 1960's. Yet here we are in 2013 with all the latest technology providing every conceivable convenience imaginable by a mere touch of our fingertips. What does this mean for the very much hands-on caregiver? Ever wonder what it would have been like for George Jetson in his make believe world to care for his aging mother-in-law? Perhaps that could have provided us with some interesting concepts of caregiving.
According to researchers, caregivers are certainly tuning into technology, specifically with new mobile-health apps that are slowly but steadily reaching the market to help them care for their loved ones. In November 2012, The National Alliance for Caregiving in collaboration with United HealthCare conducted an online study with over 1,000 family caregivers and found that:
"77% of respondents believed technology would save them time, 76% believed it would make their lives easier and 75% thought it would make the care recipient feel safer."
Additionally, Dr. Richard Migliori, United Health Group's executive vice-president for business initiatives and clinical affairs states,
"Technology for caregivers is essential to keeping seniors independent in their homes. As the technology and health care industries increasingly use these kinds of tools to improve care in hospitals and doctors' offices, this survey is a reminder that these improvements could be equally helpful where care matters most-in the home."
mmLearn.org continues to expand its' reach to caregivers by providing the latest and most informative free online videos for caregivers of older adults. Presenters on these videos are all experts in the field of aging and topics range from Hoarding and the Elderly to How to Change a Bed with Someone In It. All these videos can be viewed on your home or office computer but for the "iCaregiver" they are also available on your iPhone or iPad devices!