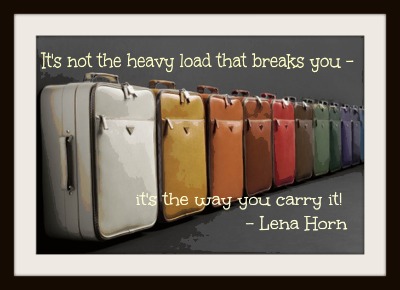 Departing on a recent recent business trip I was carrying a heavy backpack and pulling two large suitcases, but it wasn't until I dropped these off at the airline counter that I felt such relief in my shoulders, arms and back. The reprieve from the bags was so significant that for the next few hours all I could think about was the metaphor for baggage and began to reflect on the bags we often carry through life.
While we all carry some sort of baggage at some point in our lives, it may be the caregiver, someone who cares for elderly parents, a spouse or a friend, who may feel the burden of this gear much more than others. Very often in caregiving, whether a willing or reluctant one, they may be carrying around bags of guilt, fear or perhaps hopelessness.
So caregiver, is it time to unpack some of those bags? If you feel the time is right, how do you begin? It might be helpful to first find out what may be causing the heaviness – is it stress or possibly being overwhelmed with the responsibilities and pressures of the tasks of caregiving? The American Cancer Society offers a distress checklist for caregivers – it may provide a beginning point.
Another approach may be to search out resources for information and support of caregivers. One of these resources is mmLearn.org; a website specifically focused in assisting caregivers to be better prepared to care for their loved ones and how to care for themselves. With over 200 FREE videos topics include the Nature of Coping presented by Dr. Edward Shafranske to Caregiver Stress: Identifying & Reducing Strain and Stress presented by Andrea Wirt, M.S.N., R.N.
Perhaps the time has come to unpack and repack those bags – you may discover a heavy burden being lifted.