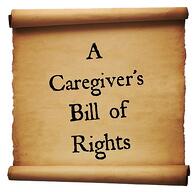 So now you've joined the ranks of an estimated 65 million American caregivers (National Alliance for Caregiving and Evercare, 2009). If you have recently become a caregiver for a family member, friend or neighbor, this may be a good time to do some serious thinking about what is expected of you in this role. Although there are as many different scenarios in caregiving as there are caregivers, here are some tried and true tips that may help you get started. First and foremost is to remember to take care of YOU! The following link to the Caregiver's Bill of Rights by Jo Horne is a good place to start because it begins with "I have the right…to take care of myself. This is not an act of selfishness. It will give me the capability of taking better care of my relative." http://www.caregiver.com/articles/caregiver/caregiver_bill_of_rights.htm
Find a support group, for those caring for a loved one with Alzheimer's or dementia or a general caregiving support group that is not focused on memory loss. Any of these can be found by contacting the Alzheimer's Association or your local hospital. There are even online support groups that would be helpful.
Recognize that you cannot do it alone and that often times using prayer and spirituality may be able to help you cope with the stress of caregiving. Visiting supportive websites such as mmLearn.org that provides reliable and evidence-based training and education also helps to manage daily frustrations.
Often times it's the little things that become overwhelming obstacles and are precisely those times when help is needed. For example, ever tried transferring someone from a wheelchair to and from a car, a shower or a toilet? It's easier said than done especially if you have no experience doing it. The Caregiver Pick Me Up series guides you through the most efficient and safe way of making these necessary wheelchair transfers. This short and very practical series can be a great help to you, the caregiver and is offered in both English and Spanish.
mmLearn.org provides over 200 free online videosfor caregivers of older adults. This quality training is done by professionals in the field of aging to help support and educate the caregiver. Pablo Casals, the world-renowned cellist, said, "The capacity to care is the thing that gives life its deepest significance and meaning." It's essential that you receive the support you need as a caregiver, so you don't lose that capacity.