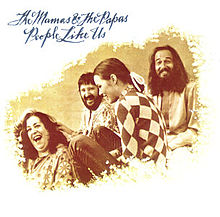 In the mid to late sixties the folk rock group The Mamas & The Papas splashed on to the recording scene with hits such as California Dreaming – remember? It was several years ago while working in a university office when during a weekly luncheon meeting we realized that there were at least six of us caring for elderly parents. What began soon after was an impromptu gathering of a support group we fittingly named "The Mamas & The Papas." The group made way for a much needed and long overdue discussion about what everyone was doing to stay sane and find ways to better cope with the stresses and responsibilities of caregiving. Word made its' way quickly around the small university and before long "The Mamas & The Papas" group welcomed caregiving spouses and even students helping care for grandparents.
As the group grew, so did the diversity of topics, everything from caring for someone with severe depression to the death of a parent. Special speakers were invited to broaden our horizons and provide the encouragement to keep going, but it was the group itself that kept everyone grounded and engaged. For many of us, those weekly meetings held the key to being able to handle just one more day.
Are you a caregiver? Do you have a support group or at least a trusted friend or co-worker you can talk to about your caregiving responsibilities? If not, run don't walk to your closest support group, and there are many in most communities. Some are specifically for caregivers caring for someone with dementia or other diseases, but there are many out there for any caregiver. Being able to tell your story of caregiving, listening to others and finding common ground is essential to staying healthy and caring for yourself.
What else can you do? Go to mmLearn.org and browse through our catalog of informative videos.