It is the caregiver who will enhance the quality of life and relationships in our older years. It is for that reason that the Elizabeth McGown Caregiver Legacy Award was established. The award is named in honor of Elizabeth McGown who was a lifelong caregiver and inspired others to meet high standards in providing care to the older adult and to do so with great compassion.
This year mmLearn.org honored two deserving recipients, Beverly Rogers, a family caregiver and Cherly Holley, a professional caregiver. Learn more about these two remarkable caregivers! Congratulations Beverly and Cheryl!
Family Caregiver: Beverly Rogers from Illinois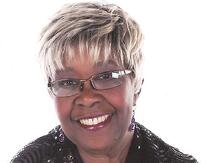 "With a combination of grace, tenacity, fierce determination and spiritual resilience Beverly Rogers cared for her husband, Amos, since his diagnosis with Alzheimer's in 2000. It rocked our entire family but not her faith and she made him a promise that she would care for him at home. That is never a trivial promise but Bev was already caring for our mother who died in 2005. Over time Amos also developed Parkinson's and colon cancer. Caring for him became more challenging and required that Beverly get assistance from Catholic Charities and other organizations for home health aide services.
Having been a manager, Beverly put on her corporate hat to deal with the personnel issues that invariably arise when you're dealing with workers in your home. Navigating the many nuances and complexities of today's healthcare system can be daunting. Bev's many years working for doctors in hospital settings must have prepared her. She was Amos's advocate and spokesperson seeking not to extend his life but to ensure that what remained of his life had quality. As Amos became more and more fragile, Beverly said, "This is my new normal; this is my new reality." Yet she was very clear that as the caregiver, she needed to maintain her own spiritual, mental and physical health. It was her responsibility to see that Amos's journey was as comfortable as she could make it but she needed to avoid getting off at his stop. To this end, she founded From Momma's House to help women walk with purpose and passion while practicing self-care through personal development coaching and workshops.
In 2009 she initiated a caregiver support group at her church and continues to serve as facilitator for the weekly sessions and coordinator for the annual conference. Bev's book, "Home Baked Wit and Wisdom: The Resurrection of Common Sense", was published in 2012. It is a delightful compilation of fun and useful sayings we heard throughout our lives. This year she was asked by the Alzheimer's Association of Illinois to be an Ambassador. These high-level representatives act as liaisons between the advocacy community and their members of Congress.
In addition to working with her local chapter, Bev will travel to Washington next spring to help advance public policy. Amos's journey ended January 25, 2013, the exact date and time that our mother died eight years earlier. Though many tears were shed over the years, Beverly found joy each morning in the knowledge that she was helping Amos reach his destination with love and dignity.
I am nominating my sister, Beverly Rogers, because she is, and always has been, my hero. By example, she set a high bar for unselfishness and unwillingness to compromise on the quality of services in spite of rising costs and financial challenges. She demonstrated what it means to take marriage vows seriously. She deserves every good thing. I hope she will be acknowledged for the unwavering devotion to her husband while performing such incredible and necessary work for the caregiving community." Nominated by: Beatrice Cork
Professional Caregiver: Cheryl Holley from Oklahoma
Originally from Dallas Texas, Holley moved to Oklahoma City in 1985 and became a caregiver in Long Term Care. Holley started as a Nursing Assistant and has since become CMA, CRA, SS/AD certified as well. She is an Eden Associate and Eden Guide. Holley is now in Life Enrichment in Health Services at Epworth Villa.
"I often hear people that are asked 'why they work as a caregiver'. [Some] respond with 'because I like to help people or because I love my residents', these are all truths, but I think the greater truth for me has selfishly been because of what they give me. As caregivers I think the title itself tells us that we are givers and that it is somehow wrong to take as well. But more often than not I find I am the one on the receiving end of a blessing. How lucky are we to work daily in a position that a simple smile can affect someone's life.
To have that daily fulfillment from a job is a feeling that I fear too few people experience. And actually if I had been asked that question in the beginning, I'm not sure what the answer would have been. It is the Culture Change movement in our industry that has made all the difference. In 2004 I attended an Eden Alternative Retreat and it changed my life. It continues to do so daily. It is our mission to address the needs of the whole person, Elders and caregivers. I came to Epworth Villa in 2011 when it elected to adopt the Eden Alternative Philosophy on its culture change journey.
Epworth is a faith based, not for profit CCRC in Oklahoma City. It has always been known for quality living and excellence in nursing and now we are extremely proud of it being one of only two Eden Registered homes in the state of Oklahoma. This is our mission, this is my mission.
What a blessing we have been given to be caregivers. To be able to assist Elders spiritually is my passion. And my motto is 'our Elders need a smile a day as much as they need a pill'." Cheryl Holley - Director of Activities, Epworth Villa Retirement Community
Thank you Cheryl and Beverly allowing us to honor you with the Elizabeth McGown Caregiver Legacy Award. Your love and dedication to caregiving is a true inspiration for all caregivers.
The awards were presented in a live webcast on November 7, 2013, from the Elizabeth McGown Training Institute. The awards ceremony can be viewed here.