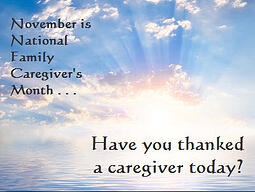 Every year during the month of November we commemorate a variety of very solemn and sometimes even bizarre days; everything from Veteran's Day to Book Lovers and Sandwich Day and of course all the way to Thanksgiving Day. Each of these days took some effort to be added to the list and means something special to a particular group of people. One exceptional group that sometimes gets lost in the shuffle is the caregiver – especially caregivers of older adults. Beginning in 1994, family caregivers were first recognized during National Family Caregivers Week, but it was President Clinton who was the first to honor caregivers as a month-long celebration, signing the first proclamation declaring November National Family Caregivers Month. Every year since, the American President in office has declared November a month to recognize the challenges, struggles, and tremendous sacrifice millions of family caregivers provide every day.
In 2010 mmLearn.org organized the first Elizabeth McGown Caregiver Legacy Award named after Elizabeth McGown who was a lifelong caregiver – as a nurse, a mother, a wife and a friend and who inspired others to meet high standards in providing care and to do so with great compassion. Each year nominating letters come in from grateful friends, co-workers and spouses of caregivers with wonderfully compelling stories of those who have been extraordinary caregivers and have created a legacy of their own. With so many to choose from, this year it was decided to honor two caregivers – a family and a professional caregiver.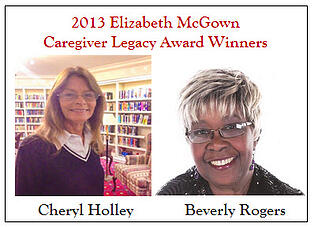 As a family caregiver Beverly Rogers from Illinois cared for her husband Amos who had developed Parkinson's and colon cancer and was nominated by her sister, Beatrice Cook. Cheryl Holley, nominated by Rev. Dr. Richard D. Cato, works as the Director of Activities at the Epworth Villa Retirement community in Oklahoma and was selected as the professional caregiver for this year. What came across so clearly in both these nominations was the tremendous amount of joy they not only derived from giving of themselves, but the impact it had on those they cared for.
Is there a special caregiver in your life? If not, caregivers abound everywhere – all you have to do is ask! Be aware of the countless opportunities to express your appreciation and generosity -- and act on them by offering a simple "thank you" or bringing them an unexpected cup of coffee. It will make their day!
Watch the 2013 Caregiver Legacy Award webcast and learn why these two woman were selected as this year's Elizabeth McGown Caregiver Legacy Award Winners.