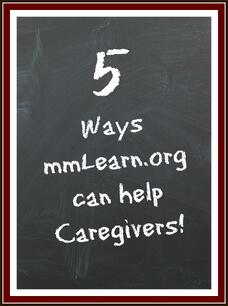 It's the beginning of a new year and everyone out there is giving advice, making resolutions and gearing up for whatever 2014 has in store for them. If you're a caregiver, whether one who has been in the trenches for many years or perhaps one who is just starting out, there is certainly one very important thing to keep in mind – you cannot do it alone. You need support in many different ways. It could be that your support comes from other family members, friends, siblings, neighbors or hired help – however and whoever is providing this support – you will need it before you realize you need it! For many caregivers, accepting or being recruited into this role often comes with lots of commentary, such as, "Oh you can do it, how hard can it be?" or "You're really the one best prepared to do this" and perhaps, "Mom, really loves you best, so it certainly makes sense that you care for her." Unfortunately, what it doesn't come with is much training or real "hands-on" assistance.
There are certainly many different avenues available to assist the caregiver, due to the surge of baby boomers caring for elderly parents, spouses or needing to be cared for themselves; but it can still be difficult to navigate the multitude of resources.
While mmLearn.org cannot promise to solve all the problems and concerns cargivers often have, we can commit to providing the most up-to-date and relevant online programming provided by experts in the field of aging. Here are just 5 ways we can help you – the caregiver:
1. We are there when you need us!
Caregivers are so busy working or caring for their loved one that it may be midnight or when they can't sleep that they have time to do some research to learn about caregiving. Our videos are online videos and are accessible 24/7.

2. We are trustworthy.
mmLearn.org is a program of Morningside Ministries – an organization with over 50 years experience in long term care. Video presenters are professionals and experts in the field of aging.

3. We are real life!
Videos are presented for the different levels of care the family caregiver is providing using every day caregiving situations.

4. We answer your questions?


While our mmlearn.org staff may be small, we are passionate about what we do and are ready and willing to answer any questions you may have. Viewers can click on the question bubble at the top left hand side of the screen from any presentation and ask a question. We will get back to you with a response within 48 hours.

5. We are FREE!
Heard the saying, "Nothing is ever free"? Well, don't believe everything you hear, mmLearn.org videos for family caregivers are free. The only thing we ask is that you provide us with your zip code and tell us how we're doing by filling in a very short survey at the end of each presentation – that's what keeps our videos free!
So don't wait – make 2014 a year to be informed and learn something new about caregiving every single day! Go to mmLearn.org and make this your best caregiving year ever!