Change is hard for everyone, but I believe it's especially difficult as we get older and very often find comfort in the familiar and reliable; the things we've become accustomed to over the years and in particular those time-honored traditions from our childhood. So is the case with my very "only one way works" 91 year old mother. Now I have to admit, there are some changes that are definitely more challenging than others. For instance – she usually won't turn up her nose at tasting a new recipe or even resist the new iPad her great-grandson insisted she try, but don't mess with the votive candles she lights religiously every month at church.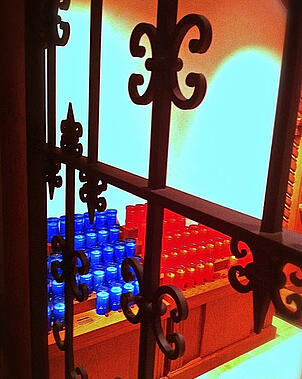 Sunday worship was a ritual for me, my younger sister and mom since my brothers often balked at having to sit still for any length of time and dad was just not a church going guy! I remember so clearly going up to the side chapel of the church where the rows and rows of candles sat on the wrought-iron votive stands underneath the statues of St. Jude and Our Lady of Guadalupe. I can still smell the burning wax and feel the warmth of the flickering fire from all the candles that lit up the small chapel. Each of us holding on tightly to moms' hand; she would often let us drop the coins in the metal box and even select which candle to light. Mom would light the candle and then for a few moments we would close our eyes as she prayed silently. We really never knew what she was praying for, but perhaps it was those many silent fervent pleas that helped us get through some rough patches in life!
Over the years and with several moves, we've visited different churches, but always with the same monthly intent of lighting those candles. On a recent visit to a much more modern church we sought out the spot where she could light her votive only to find, much to her chagrin, that all the candles were electronic votive lights! Oh, no, this would not work at all and no amount of explanation or attempt at convincing her that it would still mean the same or that most churches are now doing it like this for safety reasons – would work.
So on Sunday it's back to our old church and as mom now holds on to our hands to steady herself – she lights her candle, closes her eyes and silently prays. In the end – it is all about the candles!
Are you caring for a loved one at home? Tell us about some of your shared traditions and rituals and stay tuned for more episodes of "Chronicles of Caring for My Elderly Mom."
As everyone knows, caregiving can often be stressful. Learn to identify the sources of your stress as it realtes to being a caregiver as well as new coping strategies by viewing "Caregiver Stress: Identifying and Reducing Strain and Stress" by Andrea Wirt, RN, GNP-C, Geriatrics, UTMB. This and more than 200 other videos can be viewed for free at mmlearn.org.