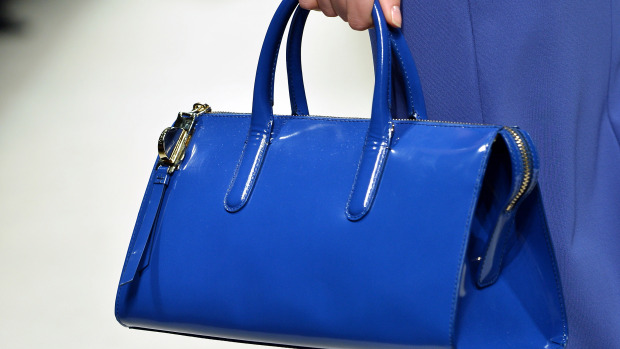 Women's handbags can often make or break an outfit and no matter if the style was a jeweled encrusted tote or the latest trendy clutch; my mom never gave up on her "bigger than a bread basket" satchel. She may have given up on the high heeled shoes years earlier, but it was that massive purse we could always count on as kids when we had an emergency or needed extra bobby pins, our favorite toy, or a snack that we knew exactly where to find it. At 91 – mom has little need for so much stuff in her purse other than her wallet, house keys and a good supply of tissues, but nonetheless, the size of her purse has not diminished. It becomes quite challenging to manage not only her cumbersome purse, but her cane as well as very often holding on to a grocery cart – too many items to keep track of while shopping.
After several failed attempts at convincing mom to exchange her large purse for a smaller size that she could cross over her shoulders; it wasn't until that fretful day at the mall that she finally gave in. I can still see the panicky look on her face as we backtracked our way to the different stores trying to remember where she had momentarily placed her purse and left it as she tried on shoes or clothes. My mind was already racing – blaming myself for not being more observant – how could I have missed this? Trying to figure out what our next step would be – report it to the police? Using her identification information, would she be a victim of some sort of scam? Not once did I consider the good in people that still exists! As I rounded the corner of the last store we had visited, a smiling sales clerk recognized the alarm on my face and said, "I knew you'd be back!" as she took the purse out from underneath her counter and handed it to me. Breathing a sigh of relief and thanking the gracious woman for her thoughtfulness, I suddenly realized I had left mom behind! Fortunately she was not too far back, still with a very worried look on her face until I held up her purse and she murmured a quick thankful prayer!
My first instinct was to bring up the topic of her huge handbag, but without any hesitation, mom insisted we go shopping for a smaller purse! While I realize this will not solve all the problems, it gives us both a little more peace of mind and a good excuse for shopping! Change is difficult at any age, but for Mom giving up her life-long love affair with her big purse was a real challenge. But I can honestly say that Mom is a real trooper and is enjoying her new found freedom from holding on to extra baggage!
Are you caring for an older family member or friend? What are some of the challenges you face? Sometimes it's those little things that make a big difference so share your stories with us so we can all learn how best to care for others together. Stay tuned for more episodes of Chronicles of Caring for My Elderly Mom or read some of our archived Chronicles here.