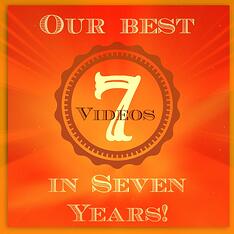 From the Seven Wonders of the World to seven days of the week – the number seven appears over and over in history and is considered for many reasons to be the number of perfection. So instead of waiting to celebrate the traditional ten or twenty-year anniversary – mmLearn.org is celebrating our seven years of producing top-notch videos with presenters providing the latest and best caregiver resources available.
What started out seven years ago as a vision to provide online support and training for caregivers of older adults with a few dozen videos and a small number of online viewers has developed into over 300 videos with well over 109,000 viewers watching from all 50 United States and over 98 countries. Now that's certainly a reason to celebrate!
Along the lines of David Letterman's Top Ten list, we'll start with the video that came in at number seven of all time:
7. Dementia – Dr. Thomas Weiss. As part of our Ask the Geriatrician, this series was developed to address the shortage of geriatricians who specialize in preventing and treating health issues in adults ages 65 plus. Dr. Weiss exhibits wit, wisdom and warmth throughout all his presentations and this particular one on Dementia is no exception.
6. Walkers, Canes and More – Martha Acosta, PhD, PT, MS, GCS. Dr. Acosta along with two associates, Rebecca Oliver, SPT and Caleb Baker, SPT – provide an exceptional overview of some of the most commonly asked questions and concerns dealing with assistive devices. They discuss the different types of devices as well as common mistakes and corrections, safety during transfers, different terrains as well as gait belts.
5. Sexuality and Aging – Timothy C. Hlavinka, MD. A Board-Certified Urologist, Dr. Llavinka addresses the importance of sexuality at any age. During this presentation Dr. Llavinka explains which aspects of sexual health are likely to change with age and also suggests strategies for talking honestly with your partner and your doctor about this important but sensitive subject.
4. Caring for the Hateful Patient – Dr. Thomas Weiss. Caring for someone who may be in a highly agitated state can often cause them to be difficult and even create an unpleasant and unrewarding caregiving situation. In his usual amiable manner, Dr. Weiss approaches this subject with consideration for both the caregiver and the patient.
3. Caregiver Pick-Me-Up: How to Transfer Someone to a Wheelchair (and from) a Car Transferring someone to and from a wheelchair may look easy when a professional is performing this task, but for a caregiver who has never done it, the undertaking can prove to be complex. This hands-on demonstration provides real-life examples of someone being transferred with some close-ups and very practical safety tips. This video is also available in Spanish.
2. Slums Examinations & the Geriatric Depression Scale – David A. Smith, M.D., FAAFP, CMD. The SLUMS Examination is a screening tool for dementia developed by Saint Louis University geriatricians. In this presentation, Dr. Smith conducts the SLUMS examination with three elderly participants.
And the Number 1 Video . . . . . . . . . . . drum roll please:
1. Home for the Holidays – Maria Wellisch, RN, LNFA. – The popularity of this video has proven the importance of things to look for when visiting elderly family members. Whether it's Christmas, Thanksgiving or just a quick trip home for the weekend, Ms. Wellisch discusses how changes in a persons' health and living conditions can occur quickly and what key things to look for when visiting. Additional tips about checking the fridge for cleanliness or spoiled food items as well as expired meds can assist a caregiver with signs of what needs to be done to keep the elderly safe in their home.
Now it's your turn, look over our catalog of videos at mmLearn.org and let us know which is your favorite. Let us know how our videos have helped you in caring for your elderly parents or perhaps a spouse. Our mission is to help you the caregiver by providing the best and most up-to-date caregiver training resources.