"Dottie, mom needs tissues" – that's all her brother Jim said, but it was enough to take her over the breaking point! After calming down, Dottie wondered why this simple phone call from her brother almost brought her to tears. It wasn't the request from her brother; it wasn't even the idea that Jim could have very easily requested the box of tissues from the clerk at the nursing home where her mother had been living now for several years. It was the realization that she had now now become "the caregiver" - the one that everyone else relied on to make sure her 95 year old mother was properly cared for. With several other siblings in the picture, nevertheless it was Dottie who took on the responsibilities of checking on her mom almost daily making sure she was eating, scheduling meetings with the doctors, nurses and social workers. It was a role that weighed heavily on her.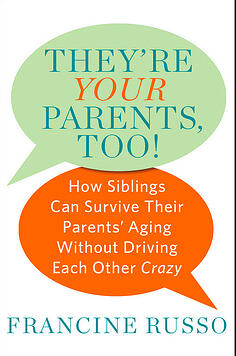 It was the image of Dottie's aunt Rose that was so vivid in her mind. Aunt Rose was the one who had spent her entire life living with her parents and eventually became the caregiver for Dottie's grandparents. Even as a teenager, Dottie felt a certain sadness for her aunt knowing how much of her life she had given up to care for her parents. It was the kind of life Dottie could not imagine living. Yet forty plus years later married and with a family of her own; Dottie had become that caregiver. Although her mother was being cared for in a nursing home, her vigilance over proper care with her calls and visits became more frequent, while the ones from her siblings trickled to a level of comfort since Dottie was "in charge." Without realizing it, plans to gather the family to see her mom for Thanksgiving, Christmas or birthdays had also become an expected part of Dottie's role as the primary caregiver.
So how does one become the primary caregiver in a family with numerous siblings? There are about as many answers to that question as there are families! Whatever the reason for Dottie taking on this role, it's one she may find difficult and even frustrating at times, but also a role that gives her the opportunity to witness glimpses of her mother at a very special time in her life. A time to give back and cherish those moments that will one day be lost.
If you're a caregiver for an elderly parent, how do you handle caregiving duties among your siblings? This is an issue that becomes more prominent as families struggle with it each day. mmLearn.org has over 300 FREE online videos to assist caregivers of older adults deal with the everyday challenges of caregiving including videos on family dynamics. If you or your siblings are caring for aging parents, may be interested in watching is "They're Your Parents Too!" - Presented by Author Francine Russo. In this webcast Francine Russo offer siblings insights and ideas to navigating this life-changing family transition.
Francine Russo is a widely recognized journalist who covered the boomer beat for Time magazine for nearly a decade and authored the "Ask Francine" column. She has also written for The Atlantic, The New York Times Magazine, Redbook, Family Circle, Ladies Home Journal, Self, Glamour, and The Village Voice. A mother of two and stepmother of three, she has a Ph.D. in English and lives in Manhattan.