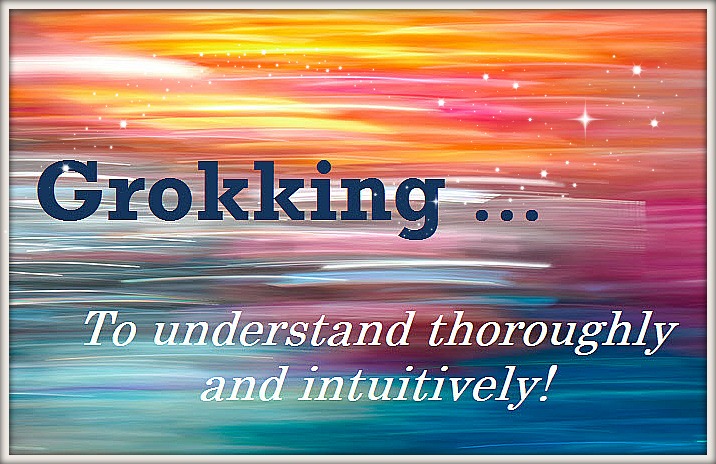 We often hear that one way to keep our brains sharp is to learn new skills. Learning new words and their meaning certainly falls in that category. The word "Grok" was actually coined by Robert A. Heiniein for his 1961 science-fiction novel, Stranger in a Strange Land. The Oxford English Dictionary defines to grok as "to understand intuitively or by empathy; to establish rapport with" and "to empathize or communicate sympathetically (with); also, to experience enjoyment". Now that undoubtedly sounds like family caregiving!
By and large family caregivers cannot "grok" their way to caring for someone simply by wanting to do a good job. While that is a first and important step, skills training and practice are essential to becoming a caregiver who is able to empathize and establish a good rapport with those in their care. What becomes evident quickly for a first time caregiver is that the life of the person you are caring for has likely changed forever and so will yours change as you adjust and attempt to figure out what works best for you both.
Isolation in family caregiving can easily become an issue making you feel as if you are the only person in the world facing the types of struggles and challenges brought on by caring for an elderly parent, a sibling or a spouse. As a family caregiver you have an awful lot of company around. According to the National Alliance for Caregiving in collaboration with AARP there are "more than 65 million people, 29% of the U.S. population who provide care for a chronically ill, disabled or aged family member or friend during any given year and spend an average of 20 hours per week providing care for their loved one."
There is a misconception that the majority of elderly in need of care live in nursing homes, but the reality is, according to the same above-mentioned study, "51% of care recipients live in their own home, 29% live with their family caregiver, and 4% live in nursing homes and assisted living." This particular statistic provides us with the type of scenario that will only grow as the boomer generation increases and their need for care swells.
Some simple ways to get "grokked" about caregiving and staying healthy while in the midst of difficult times include making healthy and positive decisions. Taking care of your own health by eating right and exercising will allow you to be confident, stronger and more self-controlled during some unexpected turbulent situations. Take a break! Yes – taking short intervals to engage in what you love doing, reading, meditating, praying, etc. – even just closing your eyes for a few moments and listening to a favorite tune can make all the difference in a difficult day!
So get Ready, Set, Go Grokking your way to Caregiving! Start by going to mmLearn.org to watch any one of our over 300 FREE online videos to support caregivers of older adults!