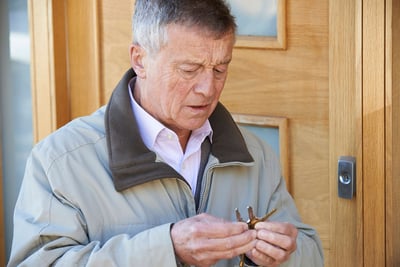 What was I doing here? Where are my keys? Wallet? Purse? How could my cell phone be missing again?
Sound familiar?
Momentary lapses happen to all of us, but memory loss, whether it's happening to you or a loved one, is a serious issue that could signal the early signs of dementia.
Yet many seniors who experience memory loss — or subjective memory complaints — are missing an opportunity to learn about the condition or explore a diagnosis. That's because they are reluctant to talk about it with health care providers. A 2017 study published in Preventing Chronic Disease found that only one in four people over the age of 45 talked about memory issues with their doctors.
That is a missed opportunity, and it can lead to delayed treatment and worsened conditions.
Why Do People Avoid Talking with Their Doctors About Memory Loss?
First off, it can be frightening. Most of us have experienced a relative or friend with dementia or Alzheimer's and mourned the loss of the person we once knew. We don't want it to happen to us. A diagnosis with any form of dementia can be discouraging, so people often dismiss memory loss.
Memory loss is easy to diminish because it is so common. A 2014 article in the Wall Street Journal reported that the average person misplaces up to 9 items every single day. Mild memory loss is a normal and natural part of aging. But as memory loss progresses, some seniors minimize their symptoms and fail to report it.
Another key reason that people are reluctant to discuss memory loss with their physicians is the stigma attached to it. Many seniors fear losing their independence and have trouble accepting help.
Because not all memory loss is a sign of dementia, it's all the more important to encourage people to discuss memory loss with family members and medical providers.
The Difference between "Senior Moments" and "Dementia"
"No, I'm Not Okay—I'm Losing My Brain" is a mmLearn video that explains the difference between age‑associated memory impairment (senior moments) and dementia. Erin M. Bonitto, MS, ADC, and founder of Gemini Consulting, Inc. helps destigmatize memory challenges and provides helpful details about what a person with Alzheimer's disease or dementia is experiencing. She also speaks to caregivers about helping people with dementia preserve independence by engaging them in dementia activities.
Reporting Memory Lapses
If we called a doctor every time Dad lost his keys, we might break the health care system. But significant changes to a senior's memory should be reported to a physician. If they have forgotten something they have never forgotten before, or are forgetting things more frequently, the doctor will want to know.
Doctors are looking for a baseline so they can determine if the incident was a one‑off or if it is indicative of dementia.
Preventing Cognitive Decline
This mmLearn caregiver video includes an important presentation by Dr. Thomas Weiss, based on the groundbreaking book by Dr. Dale Bredesen, The End of Alzheimer's: The First Program to Prevent and Reverse Cognitive Decline. The video discusses potential causes of cognitive decline, screening tools, medical history, and a procedure called cognoscopy, which Bredesen describes as "...the combination of blood tests, genetic tests, simple online cognitive assessment, and MRI with an automatic computer assessment of brain volumes provides clues to what is causing cognitive decline or putting you at risk for it."
Various studies have shown that daily exercise can sharpen memory and lower the risk of dementia, even if you start later in life.
Other research demonstrates that learning a new skill or engaging in brainteasers increase neuroplasticity — and they can be fun.
There are many online sites that advertise brain exercises. But we also know that caregivers can guide dementia activities at home with everyday objects.
Quality Caregiving Is Key
Memory loss is just one of many possible symptoms of dementia or Alzheimer's. However, being aware of changes in memory and exercising compassion with patients goes a long way.
It can be frightening to feel like you are losing cherished memories or becoming a burden to your loved ones.
If you are concerned about your own cognitive abilities or the memory of someone you love, the first step is acknowledging and discussing the issue so you can move forward together with a plan.