Seniors are at increased risk for a number of different oral health concerns ranging from unnecessary tooth loss to life-threatening diseases. Let's take a look at dental hygiene and the elderly - common dental health issues and what caregivers can do to help the one they are caring for enjoy better dental health.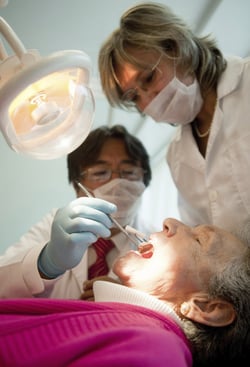 Tooth loss isn't necessarily a fact
of life for seniors thanks to preventative care.

Tooth Decay
Did you know that seniors have more tooth decay than any other demographic? As gums start to recede with age, they leave the roots of the tooth exposed and vulnerable to cavities. If untreated, this can cause infection and eventually result in breaking teeth.

In addition to proper brushing technique, routine dental hygiene for the elderly can help treat these problems before they become serious.

Gum Disease
Seniors may struggle with removing the bacteria-emitting plaque that grows on teeth surfaces. Brushing and flossing regularly can help keep the surface of the teeth clean and free of plaque. Many dentists recommend electric toothbrushes which can be easier to use as well as more effective.

Smoking is a leading cause of gum disease so if you're a caregiver to a senior who smokes, encourage him/her to stop.

Denture Problems
Poorly fitting dentures -- which can happen over time -- can be uncomfortable and embarrassing. They can also interfere with daily activities, like eating and talking. Even worse? If left untreated, loose or awkward dentures can lead to poor nutritional habits and even social isolation.

Have your aging loved one's dentures checked routinely to ensure a proper fit. Additionally, make sure dentures are removed at bedtime and stored in fresh water to avoid warping. Scrubbing them daily with a denture cream and denture brush is also important as fizzy tablets are insufficient. This short clip below guides helps you with the proper procedures for removing dentures and the residual adhesive residue. The full video can be found at mmLearn.org.
Mouth Cancer
Mouth cancer, also called oral cancer, most commonly develops in older adults, and includes all cancers of the mouth, tongue, lips and throat. At least once a month, check for signs and symptoms of oral cancer, which include sores, white or red spots, and bleeding that continues for more than two weeks. If you notice any of these warning signs, follow up with your aging loved one's health care provider.
Dry Mouth
As we age, our bodies produce less saliva -- a natural tooth cleaning mechanism that helps protect teeth from dental problems. Dry mouth can be further exacerbated by some medications.

If your aging loved one is experiencing dry mouth, ask your healthcare provider about over-the-counter artificial saliva.

Rinsing throughout the day, lip moisturizers, and moistening food by dunking are other effective ways to counter dry mouth.

The Caregiver's Role
In addition to handling any challenging physical tasks, encouraging daily mouth care, looking out for signs of dental problems, and helping prevent dry mouth, it is important to take an active role during dental check-ups and cleaning. Ask questions, and make sure both you and your loved one understand the answers.

If your aging loved one suffers from dental fear, look for a dentist who specializes in treating seniors.

Lastly, if the senior you provide care for has dementia, he/she may require additional dental care.

While senior teeth may require additional care and maintenance, older Americans can keep their teeth, be more comfortable, and lower their risk of oral cancer by following these guidelines. For more helpful caregiver videos on common oral problems in the elderly and many other important caregiver concerns, visit mmLearn.org.


mmlearn.org offers a large library of free videos for caregivers of older adults, covering topics pertaining to senior care. Whether you are a healthcare professional or a family caregiver, if you are caring for an older adult we know that you will find mmlearn.org an essential learning and guidance tool for all of your caregiver training needs.