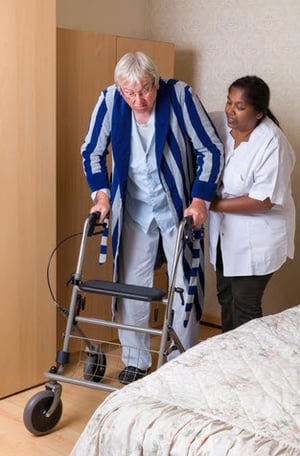 Sometimes after an inpatient hospital stay, we need a little help with getting back on our feet. This might occur in a Skilled Nursing Facility, where we receive care from a nurse and/or physical therapist. It might also occur in our home where we might receive outpatient rehabilitative services or personal care. All home health care is designed to help you regain your independence and be able to care for yourself again.
Medicare has special rules about home health care and what's covered. This care may fall under Part A if you have recently left the hospital, but more often home health care will fall under Part B, which is the part of Medicare that pays for outpatient care.
Depending on the circumstances, Medicare may cover help services in your home that involve skilled nursing or physical, occupational or speech therapy.
Let's look at some of Medicare's rules and guidelines about home health care:
Home Health Care Rules Under Medicare
For Medicare to pay for home health care, your Medicare doctor must prescribe the care for you during a face-to-face appointment. You must be currently home bound, which essentially means that you require assistance or special durable medical equipment, like a cane or walker, to leave your home.
Your will certify your need for home health care, and he or she will create an intermittent care plan for you. The care cannot be around the clock. You must also receive that care from a home healthcare agency that has been certified by Medicare.
It's important to understand that Medicare does not cover custodial care if that is the only type of care that you need. Custodial care is usually care that helps you with activities of daily living, such as feeding or taking a bath.
However, if you also need skilled care, then Medicare may cover some home health care assistance along with the skilled nursing.
Types of Covered Care
One type of covered home health care involved skilled nursing. Skilled nursing care generally involves services that must be conducted by a licensed or registered nurse. Your nurse may be changing dressings on a wound or helping you with drains after a surgery.
Another type of covered care is therapy. For example, if you have had a stroke, you may need physical and/or speech therapy for a period of time after you leave the hospital.
Care from a social worker is also sometimes covered if your doctor has ordered social services or counseling to help you with emotional issues or social concerns that may make it more difficult for you to recover.
Lastly, Medicare will also cover the durable medical equipment such as catheters used in home healthcare when it has been ordered by your Medicare doctor.
Your Cost-Sharing
While Medicare makes up the foundation of your coverage, it does not pay for all of your care. Both Medicare Part A and Part B have deductibles, coinsurance, and copays that you must pay as you access care.
For home health care that falls under Medicare Part B, you can expect that Medicare will pay for 80% of the cost of your care after you have first met the small annual Part B deductible. You are responsible for the other 20%. Some Medicare beneficiaries are enrolled in either Medicare Supplemental coverage that may help to cover some or all of this cost-sharing that you would normally be responsible for.
You should also know that when the time comes for long-term care, Medicare does not cover long-term care in a nursing home or assisted living facility. It will pay for your medical care while you live in such a facility, but it does not pay for the facility itself.
You should plan ahead to pay for this on your own or via a long-term care insurance policy that you established when you were still healthy. If you are unable to pay for his care, you might qualify for financial assistance from Medicaid, which is a healthcare program for people with low incomes and assets.
mmLearn.org offers an extensive library of free videos for caregivers of older adults, covering topics pertaining to senior care. Whether you are a healthcare professional or a family caregiver, if you are caring for an older adult we know that you will find mmLearn.org an essential learning and guidance tool for all of your caregiver training needs. For more online training for caregivers, access our free online caregiver video library today.
Danielle Kunkle Roberts is the co-founder of Boomer Benefits, a licensed insurance agency that helps baby boomers navigate their entry into Medicare.