"Autumn has come in its predictable way; the heat of summer is giving way to cooler breezes in anticipation of winter. Change is in the air. For all of us, the changing of the seasons is a reminder that we, too, must change. In fact, it is an apt metaphor for our need to adapt to the ever-evolving circumstances of our aging lives."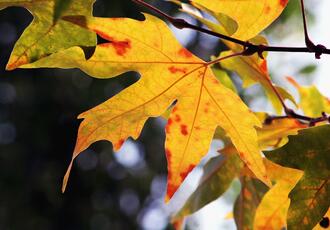 Author Patrick Abore, Ph.D. eloquently captures the importance of paying attention to the stirring within each of us as the movements of the seasons call us also to change.
Just as the season changes when the weather starts turning a bit cooler and nights get longer, so do our thoughts change as we begin to reflect on letting go and releasing those things in our lives that may have become burdensome. If you have recently become a caregiver for a parent, a spouse or other family member, there may be many changes in your life; some that may be causing difficulty or anxiety. Perhaps the person you are caring for has always lived an independent life, but now requires help to accomplish even simple tasks. Think about how difficult it must be for them to adjust to these types of transitions in life - going from something old and familiar to something new and unfamiliar.
While most changes may be small and go unnoticed being a family caregiver involves a major modification in lifestyle which may also provide a new opportunity to renew, reflect and even question what this time in your life means. It is also a time to prepare to be meet the needs of your loved one while also finding the time and energy to care for yourself and not get lost in the midst of all the expectations and boundless duties of a caregiver.
Prayer and meditation are some ways to center and quiet yourself even for a few minutes each day. Among the many video presentations offered by mmLearn.org is a series of Prayers for the Caregiver; simple, short meditations especially focused on the caregivers' busy, often complicated day. The latest video above, His Love Will Never Leave You - a Reflection for the Fall season, presented by Kay Gerfers, will provide just the kind of inspiration needed as we approach this new season of change and challenges.