Many seniors find retirement to be an active and enjoyable time, but some individuals either want or need to continue working. Some find that they're able to secure a job in the same field their career was in, while others seek a change in order to try something new. And we all know that boosting senior brain power is important and a full or part time job can help with that. Whatever the need is, there are plenty of opportunities available for people of all ages.
Many jobs offer flexible schedules or even allow you to make your own and work from home. Here are some of the best options available for seniors.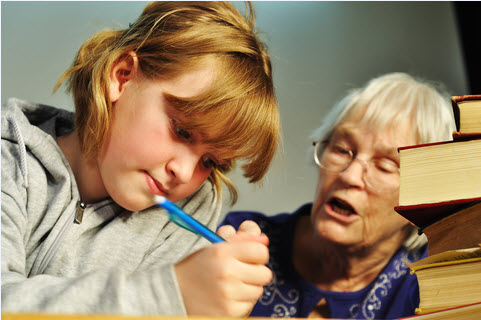 Child Mentor
If you have grandkids who live far that you miss spending time with, or if you just love working with children, working with kids is an excellent job option. Check with local after-school programs and community centers to find opportunities, or opt for online options if you're tech-savvy. You can even check with nearby preschools or daycare centers that might simply need an extra hand with reading time, art class, or recess.
Real Estate Agent
Going into real estate can be quite lucrative and can allow for a very flexible schedule, and it also provides the opportunity to be social. Many seniors find that their social lives dwindle and loneliness can be a big issue, as it can lead to depression. Working in a job where you get to interact with people on a daily basis and help them with their needs can be hugely beneficial.
Tax Preparation
For those who have experience with accounting or bookkeeping, tax prep can be the perfect part-time job after retirement. Many tax firms will hire part-time or seasonal employees to help with their caseload, or you might even consider becoming self-employed and offering your services out of your home.
Research Assistant
If education interests you, consider becoming a research assistant at a local university. There are usually plenty of fields to choose from, and you might even find that you want to pursue higher education. It's never too late to learn.
Tour Guide
If you live in a college or historic town, there are probably plenty of places that offer tours to visitors and potential residents or clients. Check out local museums, boats, hotels, universities, and historical societies to see what sort of jobs are available and whether one of them is right for you. Giving guided tours requires you to be educated on a particular subject, to be friendly, and to have the ability to be on your feet or walk a lot (in most cases), so keep that in mind.
Athletic Coach/Referee
If you're in good physical shape and have an interest in sports, consider looking for a job in the athletic field. The requirements for these jobs vary, so do some research beforehand to figure out what will work best for you.
Teacher
Are you an expert knitter? Do your neighbors constantly ask for tips to make their garden as beautiful as yours? Are you the go-to handyman in your apartment building? Spread the wealth! Find out about teaching a class where you can pass on your expertise to others. Senior centers, churches, community centers, and museums are often looking for experts to teach hands-on courses. No opportunities nearby? Find out about starting your own!
However you choose to spend your time, aim for something you truly look forward to each and every day. You may have spent your life working a job you weren't passionate about, so now's the time to indulge! Find a job that makes you excited to start each day, and soon you'll reap the physical, mental, and even spiritual benefits.
Jim Vogel and his wife, Caroline, created ElderAction.org after they began caring for their ailing parents. Through that rewarding and sometimes difficult process they've learned a lot about senior care and specifically the need for more effective senior mental health and support. Their site offers elder-positive resources and other helpful information on aging.