From much anticipated seasonal favorites to the warm feeling of conviviality that come from sharing a meal with loved ones, food is an integral part of the holiday season for many people. However, when it comes to seniors and food during the holidays, there are also a few important things to keep in mind. Let's take a closer look at what caregivers need to know to ensure that their loved ones enjoy happy, healthy eating this season.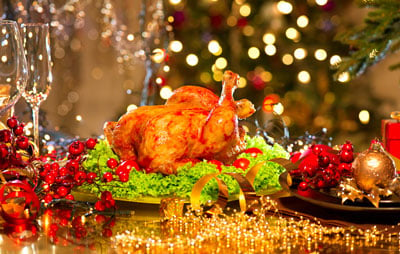 For many seniors, holiday foods are a significant part of the celebration.
The Importance of Healthy Eating For Seniors
While eating healthy is a valuable imperative for people of all ages, it can be particularly vital for seniors who face many potential health hazards related to lack of nutrition and weight gain. From high cholesterol and blood pressure to inflamed joints and dehydration, making poor choices can lead to a number of negative outcomes for seniors.
This doesn't mean seniors need to go without a holiday treat or two. However, it does pay for caregivers to keep in mind the value of continuing to promote good nutrition and healthy choices even during festive times. Try these simple techniques when planning for the holidays with older adults this year:
If your loved one is mobile, encourage as much physical activity as possible. Remember: you don't need to go far or fast. Even a simple walk can promote digestion and increase energy levels.
In addition to the threat of overeating or eating unhealthy foods, poor hygiene is also a threat to seniors due to the risk of exposure to bacteria. Take care that all food is cooked to the proper temperature. To help prevent the spread of food-bourne illnesses, seniors should avoid soft cheeses, refrigerated pates, raw or lightly cooked egg products, and unpasteurized juice, cider, and eggnog. Also, encourage all members of the household to practice good hygiene through frequent hand washing.
While enjoying the occasional alcoholic beverage is okay with a doctor's approval, drinking too much can lead to everything from weight gain to joint inflammation. Rather than serving unlimited alcohol, offer your aging loved one a selection of festive, alcohol-free drinks, such as pasteurized cider. (Be wary of juice, however, which can be high in both sugar and calories.)
Don't underestimate the importance of hydration. Drinking water helps flush the body of toxins, replenish electrolytes, and decrease the risk of dehydration. This is especially true for seniors.
Seniors thrive on schedule and routine, and this doesn't stop when the holidays arrive. Try to keep your loved one on schedule in terms of both meal and rest times. Avoid serving heavy meals late at night which can eliminate chances to burn off the meal while also interfering with a good night's sleep.
Also, keep in mind that many seniors suffer from feelings of sadness and isolation during the holidays. Watch for sudden changes in appetite and eating habits, which can indicate depression. In addition, if your loved one is suffering from dementia, you will want to be especially aware during holiday meals and celebrations.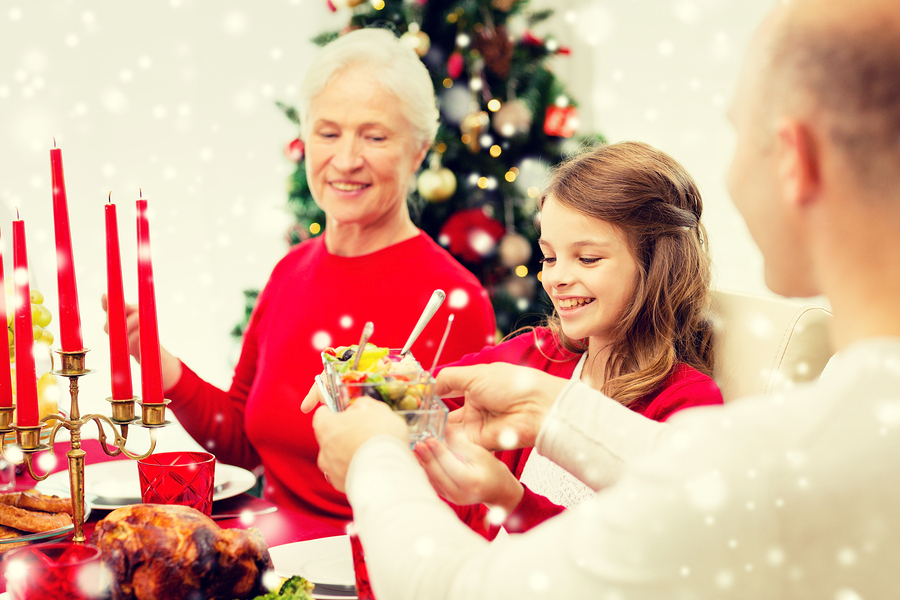 The holiday meal offers joy for the generations.
Holidays are a great way to celebrate tradition, family, and the blessings of the year. One thing especially worth toasting before your holiday meal? The health of the seniors in our lives. Caregivers can do their part to promoting ongoing health by encouraging healthy eating during the holidays and throughout the year. mmLearn.org offers a large library of free videos for caregivers of older adults, covering topics pertaining to senior care. Whether you are a healthcare professional or a family caregiver, if you are caring for an older adult we know that you will find mmLearn.org an essential learning and guidance tool for all of your caregiver training needs. Access our free online caregiver videos to continuing learning today.