"Lack of desire to eat," tops the list of caregiver concerns about the nutrition of their aging loved ones. Claiming a whopping 27% of respondent votes, this subject bested all others, including medication side effects (26%), impact of food on mood (18%), malnutrition (11 %), lack of variety in diet (nine %), weight loss (seven%) and food allergies (two%.)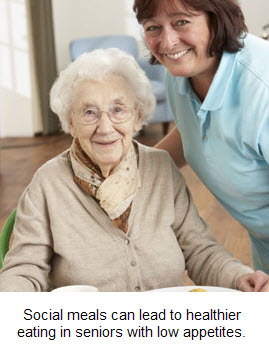 While changes in appetite are a natural part of aging, lack of adequate nutrition is linked to a number of undesirable outcomes, including higher mortality rates. Therefore ensuring that seniors continue to receive adequate nutrition remains a critical part of a caregiver's set of responsibilities. Here are some tips and tricks to help boost your aging loved one's appetite.
1. Stay on Schedule

If you are caring for a senior, you are likely already aware that older people are creatures of habit. But staying within your loved one's comfort zone isn't the only reason to create a routine. When the body becomes accustomed to eating on a regular schedule, it starts responding by triggering hunger signals at appropriate times.

2. Pick the Right Foods

Because seniors may not eat a lot, it's important to choose the right foods. While you may instinctively want to prepare all of his/her favorites, try a different approach instead. The NIH recommends choosing nutrient-dense foods, including plenty of fruits and vegetables, whole grains, low-fat or fat-free dairy products, lean poultry and meats, seafood, eggs and nuts. Avocado and peanut butter are examples of tasty snacks which maximize nutrition.

3. Make Eating a Social Occasion

Eating is a social occasion. How much so? Research reveals that people consume approximately 44 percent more food when dining together than when dining alone. Even more remarkable? This number rises as more people join the meal!

Because reduced appetite can be caused by loneliness, inviting others to join your for a meal can be a simple fix if you're struggling to get someone to eat.
If you can't join your loved one for regular meals, look into group meals offered by local senior centers, churches and other community organizations.

4. Look For Causes

In many cases, changes in senior appetite are caused by external factors, ranging from poorly-fitting dentures to "dry mouth." If your loved one is struggling with denture problems, schedule an appointment with his/her dental provider. Meanwhile, gum-chewing -- stick with sugarless -- can offset dry mouth feelings. Additionally, recent research shows that umami flavors -- a combination of "salty, sweet, sour, and bitter" -- offers extra help for dry mouth and revitalizing senior appetites.

Because tastebuds decline in sensitivity with age, giving foods an extra flavor boost can help make it more appetizing. Rather than reaching for the salt, however, use healthier herbs and spices.
5. Color Counts
The expression goes that we "eat with our eyes." Make foods appealing by serving up colorful plates of food. "Eating a rainbow," offers a multitude of benefits -- including everything from optimizing nutrition to inviting seniors to dig in.
The more colorful, the better!
6. The Doctor's Role

If your aging loved one experiences sudden changes in diet or other behaviors, talk to his/her doctor who may be able to identify any underlying causes. Additionally, a physician may also recommend prescription appetite stimulants or liquid dietary supplements, if necessary.

While reduced appetite is normal, lack of adequate nutrition can cause serious health issues. These tips and tricks can help you ensure that your aging loved one enjoys meals...and a better overall quality of life. For more valuable help for caregivers, be sure to visit mmLearn.org to pick from hundreds of training videos, including other meal-related topics.
mmlearn.org offers a large library of free videos for caregivers of older adults, covering topics pertaining to senior care. Whether you are a healthcare professional or a family caregiver, if you are caring for an older adult we know that you will find mmlearn.org an essential learning and guidance tool for all of your caregiver training needs.