Aging gracefully in place is a goal for many older Americans, but unfortunately, remaining at home will be a challenge for many. According to the U.S. Department of Health & Human Services, approximately one in seven Americans will develop a disability that lasts more than five years, and many of these Americans will be individuals 65 and over. As they age, a considerable number of disabled individuals will eventually find themselves in the care of a nursing home or assisted living facility.
If you have ever wondered how to make a senior's home safe quickly and on an affordable budget, you will be pleased to know you have a wide range of options.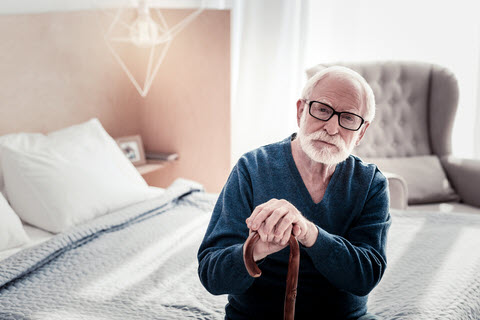 1. Living Room
Most people consider the living room to be the focal point of their home, but for seniors, their living room can pose a safety hazard. Although living areas tend to be safer than kitchens, bathrooms, and stairs, here are a few senior safety tips to help you safety-proof your loved one's living room:
Stairlifts
Stairlifts can also help mobility-limited seniors residing in two-story homes. These devices consist of a motorized chair attached to a railing, which transports the sitting person up and down the stairs. Stairlifts can be easily installed by professionals, and often, they can be customized to match the surrounding decor of the home.
Hallway Safety
Hallways can be particularly risky for seniors, but they can be made safer for older individuals. Bright, strategically placed lighting can help seniors avoid falls. For mobility impaired seniors, handrails can make a huge difference, and if a fall does occur, they can help seniors pull themselves up. Like living rooms, hallways should be clear of any clutter and obstructions.
2. Bedroom
The bedroom is a place of rest and relaxation for most, but seniors may need extra help remaining safe in their bedrooms. If you are interested in home safety for elderly individuals, you can reduce the risk of a bedroom accident by:
Giving a senior access to a cell phone or cordless phone in case of an emergency.
Ensuring flooring is even and the floor is clear of obstructions.
Adding nightlights or LED lights.
Selecting a bed of appropriate height.
Attaching bed rails to beds to prevent falls in the night. (Bed rails, which can be found in many hospitals and nursing homes, are attached to the side of the bed to prevent seniors from falling off the sides.)
Installing lifting poles and standing aids to help seniors get in and out of bed safely. (Lifting poles can be freestanding or attached to the bed, with a grip attached to the end to help individuals lift their bodies.)
3. Kitchen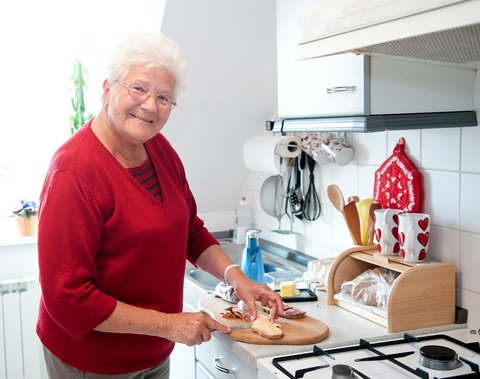 For many seniors, kitchen safety is a top priority. Slippery floors, high cabinets, and hot stove tops can be dangerous, but kitchens can be made safer.
Fire Safety
According to the National Fire Protection Association, individuals 65 and older are more than twice as likely as individuals in other age groups to die or sustain injuries in a fire. This is a disturbing statistic, but you can do the following to keep your loved ones safe in the kitchen:
Talk to your loved ones about the dangers of leaving food unattended on the stove or in the microwave.
Place fire alarms strategically throughout the kitchen and the rest of the home as well. Periodically test alarms to ensure they are functioning. If your loved one uses a gas stove to cook, installing a carbon monoxide detector may be a wise decision as well.
Hire an inspector to ensure electric outlets and wires are up-to-date and safe to use.
Encourage your loved one to take basic fire safety measures such as keeping dish towels away from open flames and equipping the kitchen with a fire extinguisher.
Fires aren't the only hazard in kitchens. Here are some other ways to make life easier and safer for your loved one:
Place heavy items such as cans, appliances, and dinnerware on countertops at waist level.
Make sure raw meats are kept at the appropriate temperature away from other food items.
Tell your loved one to avoid wearing loose clothing when cooking.
Install bright lights to illuminate work areas.
4. Bathroom
Bathrooms can also be unsafe for seniors. Slippery surfaces can be deadly, and the presence of electrical appliances around water can pose an electrocution hazard. Here are some simple and relatively cost-effective methods for making your loved one's bathroom a bit safer.
Install grab bars near toilets, bathtubs, and sinks. These bars can be installed directly into the wall and they can prevent falls.
Consider installing a walk-in bathtub in your loved one's bathroom.
Talk to your loved one about keeping electronics, such as hair dryers and curling irons, away from water.
Make sure your loved one's bath mat or the bottom of their tub features a slip-resistant mat or surface.
Lower the water temperature to avoid scalds. You can usually do this by adjusting the setting on the hot water heater.
Tell your loved one to keep the bathroom light on at night.
Install door locks that can be opened from both sides.
Help Your Loved One Live Independently
As of 2014, nearly 26 percent of older adults lived alone. With careful planning, adaptive equipment and the help of your loved one and their medical providers, you can ensure they are among the millions of happy, independent seniors aging in place safely.
Sources:
https://aspe.hhs.gov/basic-report/long-term-services-and-supports-older-americans-risks-and-financing-research-brief
https://www.ncoa.org/news/resources-for-reporters/get-the-facts/falls-prevention-facts/
https://www.nfpa.org/Public-Education/By-topic/People-at-risk/Older-adults
https://www.apa.org/monitor/2016/05/numbers.aspx
Author's Bio:
Joseph Jones has been writing senior care and aging-related articles for years. He got his start while writing for a personal blog before he was offered to work at California Mobility in 2018 as the Content Marketing Manager, creating highly informative guides and health awareness articles for aging adults.
He's currently contributing to a variety of blogs in the senior health and caregiving industries in hopes to spread information about taking care of seniors and what to expect in the aging process.