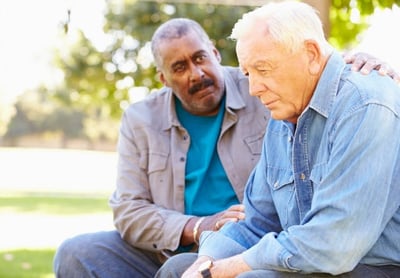 Losing a loved one is one of the hardest parts of life, and it can lead to depression, anxiety, suicidal thoughts, and even substance abuse. Seniors face the death of a spouse more than any other age group. Learning to live without their life partners might feel impossible at first. Grief can be overwhelming, even when it is not a surprise. In addition to sadness and crying, aging adults in the midst of bereavement might
Isolate from friends and family

Lose sleep

Change their eating habits

Have trouble concentrating.
Caregivers are in a unique position to help seniors identify the way loss has affected them and cope with their grief. It's important to remember that grieving takes time, so approach these efforts with patience and compassion.
Here are some practical tips for helping seniors cope with the loss of a spouse.
Acknowledge Their Sadness
Avoiding the sadness only makes the pain worse. The first step to coping with the grief is learning to face it. When a caregiver gently encourages conversations about the loss or grieving process, this can signal to seniors that acknowledging their sadness or depression is acceptable. This can help seniors express their grief in a healthy way.
Caregivers can give seniors these suggestions for facing their sadness:
Keep a daily journal recording current feelings and past memories about the lost spouse

Write a letter to the spouse telling them how you feel about the way they left. Sometimes this is beneficial for unearthing unresolved feelings.

Talk through their feelings out loud with someone they trust.
Help Them Get Support
At first, seniors might want to go through the grieving process alone. According to the National Institutes for Health, "Grieving people tend to find it difficult to ask for help, even from close family members." But support systems are crucial for healthy grieving.
Caregivers can help seniors seek support in the setting that feels most comfortable for them. Some seniors appreciate in‑person support groups, while others might feel comfortable writing their thoughts and feeling in an online grief support forum. Retired Brains offers a helpful list of online options for seniors who are grieving. Many senior center or communities also offer counseling services.
Brainstorm Ways To Be Happy
Many people who are grieving feel that they might never be happy again. This is completely normal, but it's important to remind seniors they will rediscover happiness when they're ready for it.
In the meantime, caregivers can play a pivotal role in ensuring that grieving adults stay active. Gently remind them to participate in activities they enjoy — painting, taking long walks, going out for lunch with friends.
Some people also find help in a service animal. After the death of a spouse, many seniors find joy in the companionship of a dog or cat. Pets can even help reduce stress and lower blood pressure!
Remember, There Are No Rules With Grief
Don't expect a senior to "get over" their loss or for every senior to take the same amount of time to grieve. Everyone copes with loss differently. There is no "right" way to deal with it.
Remind seniors often that, as long as they aren't turning to unhealthy coping mechanisms, they are on the right path. Family members and caregivers can be a helpful source of encouragement, sticking to the mantra, "Take it one day at a time."
Encourage Self‑Care
Even in the face of devastating loss, everyone has physical needs. Seniors who have lost a spouse might need reminders about self‑care and hygiene.
Monitor grieving seniors' sleep habits, meals, downtime, and the ability to communicate their emotions. Encourage them to sleep, eat, and engage in relaxing activities as much as possible.