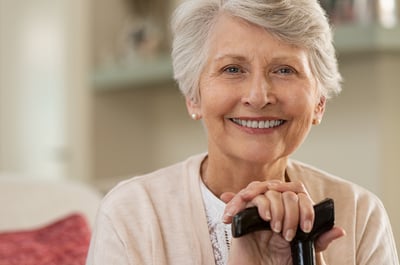 Few people would say that the aging process is easy, but there are ways to help make things easier. Many seniors struggle with mobility issues that can interfere with routine daily activities and lead to declines in independence and quality of life. Assistive devices offer a valuable "helping hand" not only for aging seniors, but also for their caregivers. To help in caring for a senior at home, we look at how assistive devices can improve mobility, as well as communication, care and hygiene, and dexterity.
About Assistive Devices for Mobility
Assistive devices for mobility can mean the difference between being able to perform simple daily activities and having complete reliance on others. Cane walkers, wheelchairs, wheelchair ramps, stair lifts, and seat assists can all help seniors get around with ease. This is an essential part of helping seniors safely go about their daily routines, and it's essential to ensuring ongoing health and dependence. Why? Because falls and fear of falling can lead to debilitating declines in strength, flexibility and range of motion.
If you're caring for an older person, it is natural to have questions about how to use these assisted devices. Properly using devices such as wheelchairs, scooters, walkers, canes, crutches, prosthetic devices, and orthotic devices is essential for the senior's stability, safety, and security. This video teaches caregivers how to safely use and adjust assisted devices, revealing the common mistakes people often make and how to avoid them. The presenter also discusses safe transfers and how to navigate different terrains.
More Assistive Devices
Additional products, tools and equipment available to assist seniors can range from low-tech to high-tech in functionality as well as serve a number of different needs. Assistive technology advances every day, and seniors have more options than ever when it comes to selecting the best tools for their individual needs. The following are examples of other assistive devices and how they can help seniors and caregivers.
Communication: Many seniors suffer from feelings of isolation -- particularly as hearing and vision loss can detrimentally affect their ability to communicate. Large-button high-volume telephones, hearing aids, personal pagers, medical alert systems and television telecaption decoders can all help seniors feel safe and connected.

While adapting to the latest technology can be frustrating, an increasing number of options exist for seniors, such as simple cell phones like the Jitterbug, which was designed specifically for seniors.

Seniors who rely on computers, meanwhile, will benefit from computer screen magnifiers, modified keyboards and other functionality designed to aid computer access.
Care and Hygiene: The aging process can turn even the simplest daily tasks into seemingly insurmountable challenges. Adaptive devices designed to aid care and grooming alleviate caregiver work and foster a critical sense of independence in seniors. These technologies include bedrails, bathtub transfer benches, long-handled shoe horns and hair dryer holders. While some of these may seem minor in function, they can make a significant difference to your aging loved one.
Adaptive Switches: Aging hands lose dexterity, which affects the ability to operate small household appliances. Adaptive switches featuring voice activation make it easier for seniors to use basic household equipment, such as telephones, air conditioning units, and lamps and lighting.
Know Your Needs
Determining which devices will best help your aging loved one can be overwhelming, but his or her healthcare team is there to help. Doctors, physical therapists, and fellow caregivers can all offer valuable input into the selection process when determining which equipment is needed.
For more information about using assistive devices to make aging easier for your loved one, check out our Family Caregiver Guide.