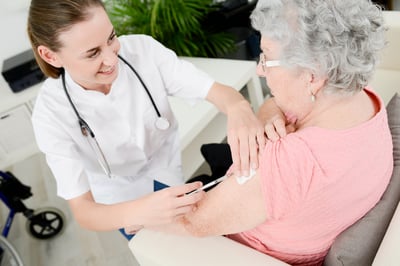 Due to weakened immune systems, older adults may experience difficulties fighting off infections. They also have a heightened risk of contracting the flu, pneumonia, shingles and other diseases. As the risk increases, the need for vaccinations also increases.
Let's take a closer look at why vaccines are crucial to maintaining the best quality of life for seniors, along with tips caregivers can use to make sure aging loved ones are on schedule.
Why Immunizations Matter for Older Adults
As seniors age, childhood vaccines can gradually lose effectiveness. Add to that a weakened immune system, along with factors such as underlying health conditions or lifestyle repercussions, and the result is a heightened risk of contracting a vaccine-preventable disease.
The two most common vaccine-preventable diseases among seniors are shingles and influenza. Nearly half a million seniors are infected by shingles each year. Seniors also make up more than 60 percent of flu-related hospitalizations. Immunization for the flu and shingles (called a zoster vaccine) can reduce the risk and help keep seniors in optimal health.
But influenza and shingles are not the only vaccine-preventable diseases that immunizations can prevent. Due to increasingly vulnerable immune systems, the list of common ailments for seniors includes tetanus, diphtheria and pertussis (for which the Td or Tdap vaccine is administered). Older adults also have a high risk for pneumococcal disease (pneumonia).
Recommended Immunizations for Older Adults
Geriatric Pharmacist Carrie Allen recommends the following vaccines for seniors.
Influenza "flu"
Pneumococcal
Shingles (zoster)
Tetanus
Hepatitis A Vaccine
Hepatitis B Vaccine
Other vaccines, which may or may not be recommended depending on present risk factors, include meningitis, Hib, and MMR.
Immunization Tips for Caregivers
Caring for an older adult can feel overwhelming sometimes. Managing your aging loved one's healthcare can be unwieldy on top of non-medical tasks like taking on the shopping, housekeeping, and bill-paying. Though managing an immunization schedule takes time, caregivers do not need to take on the task alone.
Work together with your aging loved one's healthcare team to ensure that all vaccines are up to date. Keeping everyone on the same page with the immunization schedule can make a vital difference in ensuring that your senior's health is optimized. If you are ever unsure of whether the older adult in your life is due for a vaccination, be sure to ask.
In the following video, Geriatric Pharmacist Carrie Allen explains in more detail:
Why seniors have an increased risk for illness
What vaccinations they should be receiving
How long the vaccine will last
How the vaccine will also protect you and those around you
Potential immunization side effects
Who to contact if a senior has an adverse reaction to a vaccine
If you are a caregiver or know a caregiver in need of a more comprehensive resource, check out our online Family Caregiver Guide.