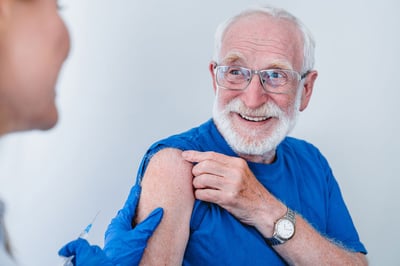 We know from experience and scientific studies that older adults are more vulnerable to many diseases and need extra protection.
An illness that can cause mild symptoms in young people can cause serious harm to an older person. That's one reason why it's important to stay up to date on vaccines.
Why Are Vaccines Important?
In this mmlearn video, Sandra Hermosa, who works for the San Antonio Metropolitan Health District, shares some important information on immunizations for older adults.
"You assume that because you got the vaccines when you were a child, you don't need them as an adult," says Hermosa. But this is incorrect. Some adults were never vaccinated when they were young, and some vaccines were not available when some adults were children. In addition, the effects of some vaccines fade over time, making people more likely to contract a disease in old age.
Seniors are more susceptible to serious disease caused by common infections like the flu and pneumonia. Before COVID-19 ravaged senior care facilities starting in early 2020, the two most common vaccine-preventable diseases for seniors were shingles and influenza (flu).
Vaccines for All Adults
Flu. The Centers for Disease Control (CDC) recommends that all adults get a seasonal flu (influenza) vaccine every year. It's especially important for seniors to stay up to date on this because influenza can cause serious illness or death.
Tdap or DTaP. Every adult should be vaccinated against tetanus, diphtheria, and pertussis (whooping cough). These combinations are called Tdap or DTaP.
Specific Vaccines for Seniors
The CDC has a set of specific recommendations about vaccines for adults age 50 and older. Those recommendations include the following:
Shingles. Shingles (also called herpes zoster, or zoster) is a painful condition that can cause a skin rash with blisters, fever, headache, chills, and upset stomach. People with shingles commonly develop nerve pain (postherpetic neuralgia, PHN) where the rash appeared. Serious cases can turn into pneumonia, hearing problems, blindness, or brain inflammation, or even cause death. Shingles affects almost 1 in 3 people in the United States in their lifetime, and nearly half a million seniors every year. The risk of shingles increases as people age. The recombinant zoster (shingles) vaccine can prevent the disease. It does have some side effects, like muscle pain, fever, and nausea. But they usually go away after a few days. And you don't want your loved one to risk getting shingles.
Pneumococcal polysaccharide vaccine (PPSV23). This shot provides protection against bloodstream infections and meningitis. It's recommended for all adults age 65 and older and for some people with specific conditions.
Pneumococcal conjugate vaccine (PCV13) helps protect against pneumonia and related diseases. It's recommended for adults who have conditions that weaken their immune systems, have cerebrospinal fluid leak, or have cochlear implants.
Hepatitis A and B. Hepatitis B is a particular risk for people with diabetes.
It's always important to talk to your health care providers about vaccines. They can give you more information about each one.
Seniors with diabetes, heart disease, stroke, HIV, liver or lung disease, renal disease, or a weakened immune system might have different vaccine needs. Doctors may have specific recommendations for additional vaccine protection for these folks.
Seniors and COVID-19 Vaccines
Remember when the pandemic began to spread in nursing homes and long-term care facilities? Seniors are especially vulnerable to COVID-19. The CDC recommends that all eligible adults receive a vaccine for COVID-19.
COVID-19 vaccines are safe and effective in preventing COVID-19 and preventing you and your loved ones from getting seriously ill. With the spread of variants, it is also proving to be important to get booster shots.
COVID-19 vaccines are free. If you are looking for where to find one in your community, you can look online at vaccines.gov, text your zip code to 438829, or call 1-800-232-0233.
Assessment Tools
The CDC has a secure online vaccine assessment tool that includes a form you can fill out to determine which vaccines you should get. You complete the form for yourself or for a loved one and get a list of vaccines you might need. Then you can use the list to discuss vaccines with health care providers.
Here's something fun: AARP offers a quiz to test your "vaccine smarts" here.
Get Educated, and Stay Up to Date
Being a caregiver for a senior comes with serious responsibilities. But don't let the idea of keeping track of vaccines overwhelm you. Health care providers can offer valuable insights into which vaccines can help you care for and protect your loved one.
When your loved one is fully vaccinated, you might be able to worry a little less about their health.