Joints connect bones, provide support, and help us move. Unfortunately, injury and disease can damage joints, leading to impeded movement and debilitating pain. As we age, these issues become increasingly common -- particularly during the winter months when cold exacerbates the issue. But while joint pain is a fact of life for many seniors, caregivers can help them manage their discomfort and improve their quality of life. Let's take a closer look at the issue of joint pain, along with several effective pain management techniques.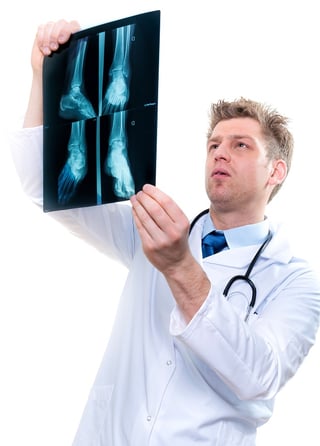 A doctor can shed light on what's causing senior joint pain.
An Overview of Joint Pain
Joint pain arises from a number of medical conditions, including osteoarthritis, rheumatoid arthritis, gout, bursitis, sprains and strains. Knees, shoulders and hips are among the most common sites of joint pain, although no part of the body's immune. Many seniors suffer from joint pain throughout their bodies, including hands, shoulders, ankles and feet.
In order to most effectively treat joint pain, it's important to understand its source. Your aging loved one's doctor will begin by trying to diagnose the condition. The ultimate goal? To preserve joint function while reducing pain and inflammation.
Treating Joint Pain
Depending on the specifics of your aging loved one's join pain, his doctor may prescribe an OTC or prescription anti-inflammatory drug, acetaminophen, or -- in extreme cases -- opioids. (Of course, there are some additional considerations when it comes to medication and chronic pain management.)
Muscle relaxants, antidepressants and antiepileptic drugs can also be used to treat muscle spasms and relieve pain, respectively. Topical agents and steroid injections can also help alleviate symptoms -- particularly in cases of joint disease.
Additionally, some joint pain sufferers have success with alternative treatments, such as dietary supplements.
The Role of Physical Therapy
A physical therapist can also be a valuable resource for managing joint pain. Using a variety of techniques such as heat and cold therapy, electrical nerve stimulation, ultrasound, and manipulation, the physical therapist will focus on improving range of motion while strengthening and stabilizing the joint.
Physical therapy also aligns with the "golden rule of joint health," as declared by WebMD. Movement helps promote range of motion and prevent stiffness. The less you move, meanwhile, the harder it becomes to move, which can become a vicious cycle -- particularly for seniors.
Home Care Techniques
One of the most effective ways to reduce joint pain is to take pressure off of painful joints by losing weight. Diet and low-impact exercises, such as swimming, strength training, and walking, combine to promote weight loss and joint relief.
One caveat? While aching muscles are normal following exercise, pain that lasts more than 48 hours is not. Encouraging your aging loved one to listen to his body, resist the potentially dangerous temptation to "work through" the pain, and take a break if pain persists.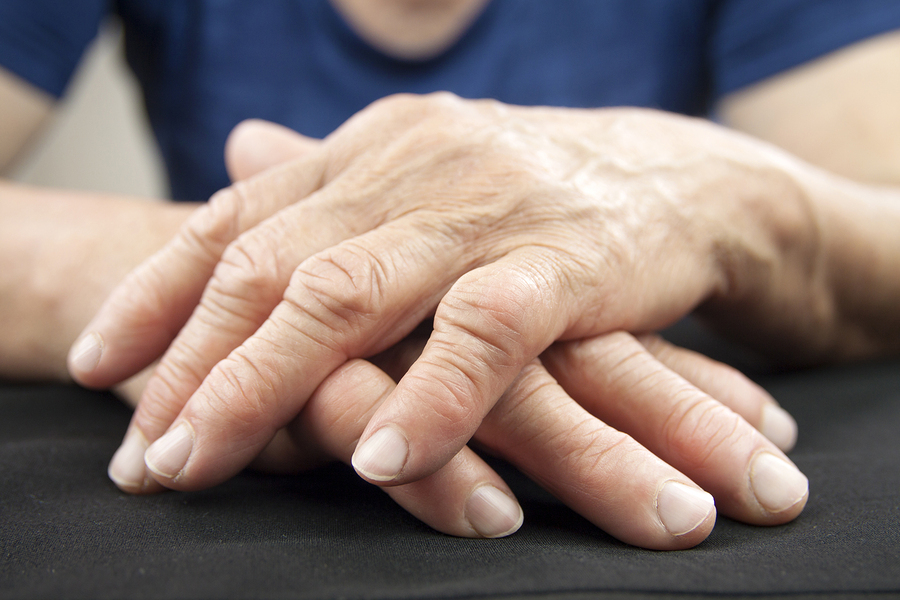 Joint pain in fingers and hands can be particularly debilitating.
In addition to encouraging seniors to maintain healthy weight, caregivers can employ a useful short-term joint paint method: With an acronym of PRICE, this five-step process includes using a brace or wrap to protect the joint; rest; ice; compression, and elevation. Note that while ice typically works best for alleviating pain and inflammation, heat can help with muscle spasms.
Without intervention, joint pain can grow into a serious quality of life threat for elders. Caregivers offer invaluable partnership in helping seniors understand and cope with joint pain. mmLearn.org offers a large library of free videos for caregivers of older adults, covering topics pertaining to senior care. Whether you are a healthcare professional or a family caregiver, if you are caring for an older adult we know that you will find mmLearn.org an essential learning and guidance tool for all of your caregiver training needs. Access our free online caregiver videos for more useful information and resources for caregivers.