Losing a loved one is one of the hardest things we go through, and it can lead to depression, anxiety, suicidal thoughts, and even substance abuse. For seniors, learning to live without someone who has been a part of your life (possibly for decades) might seem impossible at first; the grief feels insurmountable and can cause you to isolate yourself from your friends and family, lose sleep, change your eating habits, and have trouble concentrating.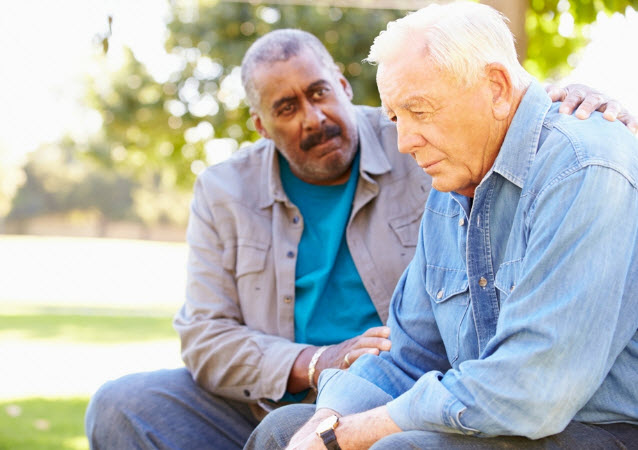 Seniors, more so than any other age group, deal with loss the most, which is why it's important to learn the right ways to cope with grief and how it can affect your mind and body. Fortunately, there are many ways this can be done; however, it's important to remember that it will take time, and that you need to be kind to yourself throughout the process.
Here are the best tips on coping with grief and the aftermath of losing a loved one.
Acknowledge your Sadness
Try not to avoid your sadness. Ignoring the pain you're in will only make it worse. It's important to face the loss you've suffered and let it come to the surface so you can learn to cope with it. This doesn't mean that you have to force yourself to be strong or never let your emotions show; in fact, that will have a negative effect on your healing. Instead, find ways to express your grief in a healthy way.
Get Some Support
Going through the grieving process may seem like something you want to do alone, but it's best to have a support system to help you get through it. Support groups come in many forms — you can even find them online — or try opening up to a trusted friend or loved one. Many senior centers or communities even offer counseling services. You can also keep a journal or write a letter to the one you lost telling them how you feel about the way they left. You might find that there are a lot of unresolved feelings you didn't even know were there.
Find Ways To Be Happy
Many people who are grieving feel that they might never be happy again. This is completely normal, but it's important to remember that you will find happiness when you're ready for it. In the meantime, you can engage in activities that you enjoy — painting, taking long walks, going out for lunch with friends — or find help in a service animal. Dogs and cats, particularly after the death of a spouse, make especially great companions during the grieving process and can help reduce stress and even lower blood pressure.
Remember That There Are No Rules With Grief
Don't expect to "get over" your loss, or to take a certain amount of time to grieve. Everyone copes with loss differently, and there is no "right" way to deal with it. Give yourself time and know that as long as you aren't turning to unhealthy ways to get through it, you're doing everything exactly right. It's okay to take things one day at a time.
Take Care Of Yourself
Remember that you need rest, good meals, downtime, and the ability to express yourself in a healthy way to get through your loss. Make it a point to sleep, eat, and engage in relaxing activities as much as possible.
mmLearn.org offers a large library of free videos for caregivers of older adults, covering topics pertaining to senior care. Whether you are a healthcare professional or a family caregiver, if you are caring for an older adult we know that you will find mmlearn.org an essential learning and guidance tool for all of your caregiver training needs. For more useful caregiving content, access our database of free online caregiver training videos today.
About our Guest Blogger: Jennifer Scott has experienced anxiety and depression since she was a teenager. She shares stories about the ups and downs of her anxiety and depression at SpiritFinder.